shell

shell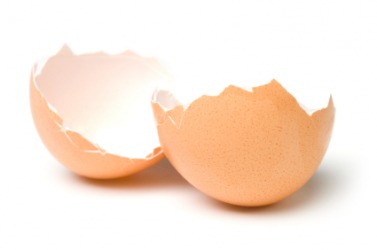 This empty shell once contained an egg.
noun
The definition of a shell is a hard covering on the outside of something.

An example of a shell is what you crack to open an egg.
An example of a shell is the hard part of a snail.
verb
Shell is defined as to remove the outside cover of something.

An example of to shell is removing the seeds from a dried flower pod.

Shell means to fire explosives from a large gun or guns.

An example of to shell is the military bombing civilian homes.
---
shell
a hard outer covering, as of a turtle, mollusk, insect, egg, fruit, seed, etc.
something like or suggestive of a shell in being hollow, empty, or simply a covering or framework, as the hull of a boat, a hollow pastry or unfilled pie crust, the framework of a building, a structure with an arched or hemispherical roof or back, a tapered beer glass, etc.
a shy, reserved, or uncommunicative attitude or manner: to come out of one's shell
a woman's simple sleeveless blouse or sweater
a long, narrow, thin-hulled racing boat rowed usually by a team of oarsmen
an explosive artillery projectile containing high explosives and sometimes shrapnel, chemicals, etc.
a cartridge for small arms or small artillery, consisting of a metal, paper, or plastic case holding the primer, powder charge, and shot or bullet
a pyrotechnic cartridge which explodes high in the air

a mollusk
[pl.] shellfish

any of the spherical or elliptical orbits of electrons around the nucleus of an atom, each with the same principal quantum number and about the same energy
the space taken up by such an orbit
a grouping of like nucleons of approximately the same energy in the nucleus
Origin of shell
Middle English
schelle
from Old English
sciel
, akin to Middle Dutch
schelle
from Indo-European base an unverified form
(s)kel-
: see shelf
to remove the shell or covering from; take out of the shell: to shell peas, oysters, etc.
to separate kernels or grains of (corn, wheat, etc.) from the cob or ear
to fire shells at from a large gun or guns; bombard
to separate from the shell or covering: peanuts shell easily
to fall, slough, or peel off
to gather or collect shells
shell out
Informal
to pay out (money)
---
shell
noun
a. The usually hard outer covering that encases certain organisms, such as insects, turtles, and most mollusks.

b. A similar outer covering on a nut or seed.

c. A similar outer covering on certain eggs, such as those of birds and reptiles; an eggshell.

d. The material that constitutes such a covering.

Something resembling or having the form of a shell, especially:

a. An external, usually hard, protective or enclosing case or cover.

b. A framework or exterior, as of a building.

c. A thin layer of pastry.

d. The external part of the ear.

Nautical

a. The hull of a ship.

b. A light, long, narrow racing boat propelled by rowers.

A small glass for beer.

a. An artillery projectile containing an explosive charge.

b. A metal or cardboard case containing the charge and primer for a piece of firearms ammunition, especially one also containing shot and fired from a shotgun.

An attitude or a manner adopted to mask one's true feelings or to protect one from perceived or real danger: Embarrassed, she withdrew into a shell.
Physics

a. A set of electron orbitals having nearly the same energy and sharing the same first quantum number.

b. Any of the stable states of other particles or collections of particles (such as the nucleons in an atomic nucleus) at a given energy or small range of energies.

a. A usually sleeveless and collarless, typically knit blouse.

b. A thin, usually waterproof or windproof outer garment for the upper body.

Computers A program that works with the operating system as a command processor, used to enter commands and initiate their execution.
A company or corporation created by a second company or corporation for the purposes of facilitating a particular transaction, especially one that is intended to be concealed.
verb
shelled, shell·ing, shells
verb
transitive
a. To remove the shell of; shuck: shell oysters.

b. To remove from a shell: shell peas.

To separate the kernels of (corn) from the cob.
To fire shells at; bombard.

a. To defeat decisively.

b. Baseball To hit the pitches of (a pitcher) hard and with regularity: shelled the pitcher for eight runs in the first inning.
verb
intransitive
To shed or become free of a shell.
To look for or collect shells, as on a seashore: spent the day shelling on Cape Cod.
Phrasal Verbs:
shell out
Informal
To hand over; pay:
had to shell out $500 in car repairs.
Origin of shell
Middle English
from
Old English
scell
; see
skel-
1
in Indo-European roots.
Related Forms:
---
shell

---
shell - Computer Definition

The default command-line interface on UNIX systems.
See Also: UNIX.
---
The outer layer of an operating system, otherwise known as the user interface. The term originally referred to the software that processed the commands typed into the Unix operating system. For example, the Bourne shell was the original Unix command line processor, and C shell and Korn shell were developed later. The default command line interface in DOS was provided by the COMMAND.COM module, which, starting with Windows 95 was superseded by CMD.EXE. See command line and user interface. Later, the term was applied to graphical user interfaces (GUIs). For example, the default shell in Windows is Explorer, which provides the Start menu, taskbar and desktop, but third-party choices are also available (see skin). DOS also had an alternative to the command line (see DOS Shell). See Explorer, PowerShell, Bourne shell, C shell and Korn shell.
---