Middle
[mid′'l]
adjective
The definition of middle is being at a central or intermediate point.

An example of middle used as an adjective is in the phrase "middle child," which means a child who is neither the oldest or youngest in a group of siblings.
noun
Middle is defined as the area that is at the center.

An example of a middle is a person's stomach, called "his middle."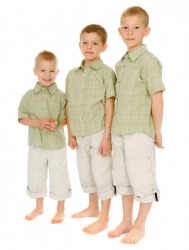 A middle child with his older and younger brothers.
---
Middle
adjective
halfway between two given points, times, limits, etc.; also, equally distant from all sides or extremities; in the center; mean
in between; intermediate; intervening

Gram.

denoting the voice or form of a verb whose subject is represented as acting reflexively, or upon itself: in Greek, such verbs are usually passive in grammatical form
in or of the middle voice

Geol.

designating a division of a period or a formation between those called Upper and Lower
designating a stage in language development intermediate between those called Old and Modern: Middle English
Origin of middle
Middle English
middel
; from Old English ; from
midd-,
mid +
-el,
-le
noun
a point or part halfway between extremes; middle point, part, time, etc.
something intermediate
the middle part of the body; waist

Gram.

the middle voice
middle term
---
Middle
adjective
Equally distant from extremes or limits; central: the middle point on a line.
Being at neither one extreme nor the other, as of a sequence or scale; intermediate: the middle decades of the century.
Middle

a. Of or relating to a division of geologic time between an earlier and a later division: the Middle Paleozoic.

b. Of or relating to a stage in the development of a language or literature between earlier and later stages: Middle Swedish.

Grammar Of, relating to, or being a verb form or voice in which the subject both performs and is affected by the action specified.
noun
An area or a point equidistant between extremes; a center: the middle of a circle.
Something intermediate between extremes: the middle of the story.
The middle part of the human body; the waist.
Logic A middle term.
Grammar

a. The middle voice.

b. A verb form in the middle voice.
transitive verb
mid·dled
,
mid·dling
,
mid·dles
To place in the middle.
Nautical To fold in the middle: middle the sail.
Origin of middle
Middle English
middel
, from Old English; see
medhyo-
in Indo-European roots.
---
Middle
---
Middle
Variant of middle
adjective
halfway between two given points, times, limits, etc.; also, equally distant from all sides or extremities; in the center; mean
in between; intermediate; intervening

Gram.

denoting the voice or form of a verb whose subject is represented as acting reflexively, or upon itself: in Greek, such verbs are usually passive in grammatical form
in or of the middle voice

Geol.

designating a division of a period or a formation between those called Upper and Lower
designating a stage in language development intermediate between those called Old and Modern: Middle English
Origin of middle
Middle English
middel
; from Old English ; from
midd-,
mid +
-el,
-le
noun
a point or part halfway between extremes; middle point, part, time, etc.
something intermediate
the middle part of the body; waist

Gram.

the middle voice
middle term