midsection

mid·sec·tion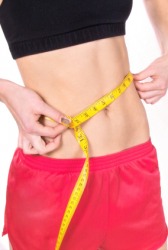 A woman's midsection.
noun
Midsection is defined as the middle or abdomen.

An example of the midsection is someone's stomach and the middle of their back.
---
midsection
the section in the middle; specif., the midriff region of the body
---
midsection
noun
A middle section, especially the midriff of the human body.
---
midsection

---