end

end-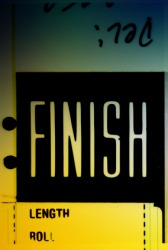 The end of a movie.
noun
The definition of an end is the last part, or limit of something.

An example of end is the last scene in a movie.
---
end
a limit or limiting part; point of beginning or stopping; boundary
the last part of anything; final point; finish; completion; conclusion: the end of the day

a ceasing to exist; death or destruction
the cause or manner of this

the part at, toward, or near either of the extremities of anything; tip

an outer district or region: the west end of town
a division, sector, area of responsibility, etc., as in an organization

what is desired or hoped for; object; purpose; intention
an outcome; result; upshot; consequence
a piece left over; fragment; remnant: odds and ends
the reason for being; final cause

Football

a player at either end of the line
this position
Origin of end
Middle English and Old English
ende
, akin to German
ende
, Gothic
andeis
from Indo-European an unverified form
antyos
, opposite, lying ahead from an unverified form
anti-
, opposite, facing ( from base an unverified form
ants
, front, forehead) from source Old High German
endi
, forehead, Classical Greek
anti
, Classical Latin
ante
to bring to an end; finish; stop; conclude
to be or form the end of
Origin of end
ME
enden
< OE
endian
to come to an end; terminate: will this storm ever end?
to die
at the end; final: end man, end product
end for end
with the ends, or the position, reversed
end to end
in a line so that the ends touch or meet
end up
to come to a particular end or condition: they ended up in jail
keep one's end up
Informal
to do one's share
make an end of
to finish; stop
to do away with
make (both) ends meet
Origin of end
as in Fr
joindre les deux bouts
to manage to keep one's expenses within one's income
no end
Informal
extremely; very much or many
on end
in an upright position
without interruption: for days on end
to end
that surpasses or exceeds: a trip to end all trips
---
end
noun
Either extremity of something that has length: the end of the pier.
The outside or extreme edge or physical limit; a boundary: the end of town.
The point in time when an action, event, or phenomenon ceases or is completed; the conclusion: the end of the day.
A result; an outcome.
Something toward which one strives; a goal. See Synonyms at intention.
The termination of life or existence; death: "A man awaits his end / Dreading and hoping all" ( William Butler Yeats )
The ultimate extent; the very limit: the end of one's patience.
Slang The very best; the ultimate: This pizza's the end.
A remainder; a remnant.

a. A share of a responsibility or obligation: your end of the bargain.

b. A particular area of responsibility: in charge of the business end of the campaign.

A warp end.
Football Either of the players in the outermost position on the line of scrimmage. Offensive ends are eligible to catch passes.
verb
end·ed, end·ing, ends
verb
transitive
To bring to a conclusion: Let's end this discussion.
To form the last or concluding part of: the song that ended the performance. See Synonyms at complete.
To destroy: ended our hopes.
verb
intransitive
To come to a finish; cease: The rain ended.
To arrive at a place, situation, or condition as a result of a course of action. Often used with up : He ended up as an adviser to the president. The painting ended up being sold for a million dollars.
To die.
Origin of end
Middle English
ende
from
Old English; see
ant-
in Indo-European roots.
end-
---
end

Noun
(plural ends)
The final point of something in space or time.

At the end of the road, turn left.   At the end of the story, the main characters fall in love.

The cessation of an effort, activity, state, or motion.

Is there no end to this madness?

Death, especially miserable.

He met a terrible end in the jungle.
I hope the end comes quickly.

(cricket) One of the two parts of the ground used as a descriptive name for half of the ground.

The Pavillion End

(American football) The position at the end of either the offensive or defensive line, a tight end, a split end, a defensive end.
(curling) A period of play in which each team throws eight rocks, two per player, in alternating fashion.
That which is left; a remnant; a fragment; a scrap.

odds and ends
Usage notes
Adjectives often used with "end": final, ultimate, deep, happy, etc.
Verb
(third-person singular simple present ends, present participle ending, simple past and past participle ended)
Origin
From Middle English ende, from Old English ende, from Proto-Germanic *andijaz (compare Dutch einde, German Ende, Swedish ände), from Proto-Indo-European *antios (compare Old Irish ét ("end, point"), Latin antiae ("forelock"), Albanian anë ("side"), Ancient Greek ἀντίος (antios, "opposite"), Sanskrit अन्त्य (antya, "last")), from *h₂enti ("opposite"). More at anti.
The verb is from Middle English enden, endien, from Old English endian ("to end, to make an end of, complete, finish, abolish, destroy, come to an end, die"), from Proto-Germanic *andijōną ("to finish, end"), denominative from *andijaz.
Abbreviations
(text messaging) attend (any sense)
---