noun
The definition of an end is the last part, or limit of something.

An example of end is the last scene in a movie.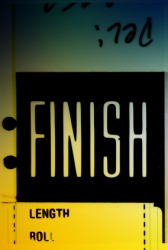 The end of a movie.
---
end- definition by Webster's New World
noun
a limit or limiting part; point of beginning or stopping; boundary
the last part of anything; final point; finish; completion; conclusion: the end of the day

a ceasing to exist; death or destruction
the cause or manner of this

the part at, toward, or near either of the extremities of anything; tip

an outer district or region: the west end of town
a division, sector, area of responsibility, etc., as in an organization

what is desired or hoped for; object; purpose; intention
an outcome; result; upshot; consequence
a piece left over; fragment; remnant: odds and ends
the reason for being; final cause
☆

Football

a player at either end of the line
his position
Origin: Middle English and amp; Old English ende, akin to German ende, Gothic andeis ; from Indo-European an unverified form antyos, opposite, lying ahead ; from an unverified form anti-, opposite, facing (; from base an unverified form ants, front, forehead) ; from Old High German endi, forehead, German anti, Classical Latin ante
transitive verb
to bring to an end; finish; stop; conclude
to be or form the end of
Origin: ME enden < OE endian
intransitive verb
to come to an end; terminate: often with up
to die
adjective
at the end; final: end man, end product
Webster's New World College Dictionary Copyright © 2010 by Wiley Publishing, Inc., Cleveland, Ohio. Used by arrangement with John Wiley & Sons, Inc.
---
end- definition by American Heritage Dictionary
noun
Either extremity of something that has length: the end of the pier.
The outside or extreme edge or physical limit; a boundary: the end of town.
The point in time when an action, an event, or a phenomenon ceases or is completed; the conclusion: the end of the day.
A result; an outcome.
Something toward which one strives; a goal. See Synonyms at intention.
The termination of life or existence; death: "A man awaits his end/Dreading and hoping all" (William Butler Yeats).
The ultimate extent; the very limit: the end of one's patience.
Slang The very best; the ultimate: This pizza's the end.
A remainder; a remnant.

a. A share of a responsibility or obligation: your end of the bargain.

b. A particular area of responsibility: in charge of the business end of the campaign.

Football

a. Either of the players in the outermost position on the line of scrimmage.

b. The position played by such a player.
verb
end·ed
,
end·ing
,
ends
verb
, transitive
To bring to a conclusion.
To form the last or concluding part of: the song that ended the performance.
To destroy: ended our hopes.
verb
, intransitive
To come to a finish; cease. See Synonyms at complete.
To arrive at a place, situation, or condition as a result of a course of action. Often used with up: He ended up as an advisor to the president. The painting ended up being sold for a million dollars.
To die.
Origin: Middle English ende, from Old English; see ant- in Indo-European roots.
The American Heritage® Dictionary of the English Language, 4th edition Copyright © 2010 by Houghton Mifflin Harcourt Publishing Company. Published by Houghton Mifflin Harcourt Publishing Company. All rights reserved.
---
end- - Medical Definition
The American Heritage® Medical Dictionary Copyright © 2010 by Houghton Mifflin Harcourt Publishing Company. Published by Houghton Mifflin Harcourt Publishing Company. All rights reserved.
---
end- - Phrases/Idioms
end for end
with the ends, or the position, reversed
end to end
in a line so that the ends touch or meet
keep one's end up
Informal
to do one's share
make an end of
to finish; stop
to do away with
make (both) ends meet
Etymology: as in Fr joindre les deux bouts
to manage to keep one's expenses within one's income
no end
Informal
extremely; very much or many
on end
in an upright position
without interruption for days on end
to end
that surpasses or exceeds a trip to end all trips
in the end
Eventually; ultimately:
All will turn out well in the end.
no end
A great deal:
She had no end of stories to tell.
on end
Having one end down; upright:

books placed on end on the shelf.

Without stopping:

drove for hours on end.
end-
Variant of endo-
within, inner:
endoderm
also, before a vowel,
end-
Origin: ; from Classical Greek endon, within ; from en, in plush (?) an unverified form dom, locative of base seen in Classical Latin domus, house: hence, origin, originally , in the house