ant
ant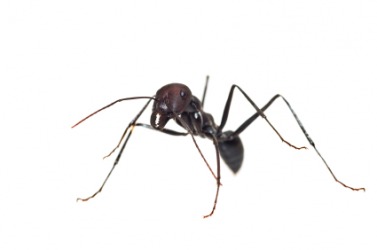 A closeup of an ant.
noun
The definition of an ant is a small insect that can be black, red, brown or yellow in color and which is known for working hard and being strong.

An example of an ant is the Atta laevigata which is found in South America.
---
ant
any of a widespread family (Formicidae) of black, brown, or red hymenopteran insects, generally wingless, that live in colonies with a complex division of labor by castes, including workers, males, and a queen
Origin of ant
Middle English
ante, amete
; from Old English
æmet(t)e
: akin to Old High German
âmeiza
; from
â-
, off +
meizen
, Gothic
maitan
, Old English an unverified form
mætan
, to cut; hence, literally , "the cutter off"
Ant
ant-
anti-: used before a vowel
-ant
that has, shows, or does: defiant, radiant
a person or thing that ____s: occupant, accountant
Origin of -ant
Middle English ; from Old French ; from Classical Latin
-antem
or
-entem
, accusative present participle ending
---
ant-
-ant
suffix
a. Performing, promoting, or causing a specified action: acceptant.

b. Being in a specified state or condition: flippant.

a. One that performs, promotes, or causes a specified action: deodorant.

b. One that undergoes a specified action: inhalant.
Origin of -ant
Middle English, from Old French, from Latin
-&amacron;ns, -ant-
, present participle suff. of verbs in
-&amacron;re
.
Ant.
ant.
ant
noun
Any of numerous hymenopteran insects of the family Formicidae, characteristically having wings only in the males and fertile females and living in colonies that have a complex social organization.
Origin of ant
Middle English
amte
, from Old English
&aemac;mete
.
---
ant
Initialism
Afghanistan National Television.
Aids to Navigation Team, as used in the United States Coast Guard.
---
ant - Computer Definition
The primary build tool used in the Java environment to automate compiling, testing, packaging and deploying large Java projects. Written in Java itself, it is a utility that executes a file of XML-based commands, and all major Java development environments (IDEs) support it. Ant was created by James Davidson to automate compilations of the Apache project's Tomcat servlet engine. It was later used to build all Apache programs and migrated to the Java community. Phing is an Ant version for PHP, and NAnt is a version for the .NET framework. MSBuild is a Microsoft build tool that was modeled after Ant. See build and make.
---