noun
In mythology, an Amazon was defined as a female in battle known to live in Pontus, close to the Black Sea.

An example of an Amazon was Penthesilea.

The definition of an amazon is a woman possessing extraordinary height and strength.

An example of someone who might be considered an Amazon is a tall professional track runner who is female.

The Amazon, in South America, is the largest river in the world.

An example of a country where the Amazon runs through is Brazil.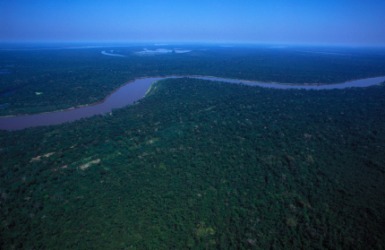 An aerial view of the Amazon river and surrounding rainforest.
---
amazon definition by Webster's New World
noun
Gr. Myth.

any of a race of female warriors supposed to have lived in Scythia, near the Black Sea
a tall, strong, aggressive woman
a small, greenish parrot (genus Amazona) of Central and South America, often kept as a pet
any of a genus (Polyergus) of ants that makes slaves of other ants
Origin: Classical Latin ; from Classical Greek Amazōn, of unknown origin, originally , but derived, derivative by folk etymology ; from a-, without plush mazos, breast, hence the story that the Amazons cut off one breast to facilitate archery
river in South America, flowing from the Andes in Peru across N Brazil into the Atlantic: c. 4,000 mi (6,437 km)
Origin: so named by Spaniards, who believed its shores inhabited by female warriors: see Amazon
Webster's New World College Dictionary Copyright © 2010 by Wiley Publishing, Inc., Cleveland, Ohio. Used by arrangement with John Wiley & Sons, Inc.
---
amazon definition by American Heritage Dictionary
noun
Greek Mythology A member of a nation of women warriors reputed to have lived in Scythia.
often amazon A tall, aggressive, strong-willed woman.
A small green parrot of the genus Amazona, having a short tail and red-and-blue wings, native to Central and South America.
Origin: Middle English, from Latin Amāzōn, from Greek Amazōn, probably of Iranian origin.
Word History:
In classical legend the Amazons were a tribe of warrior women. Their name is supposedly derived from Greek
a-mazos,
"without a breast," because according to the legend they cut off their right breasts so as to be better able to shoot with a bow and arrow. This folk etymology, like most folk etymologies, is incorrect, but the Amazons of legend are not so completely different from the historical Amazons, who were also warriors. The historical Amazons were Scythians, an Iranian people renowned for their cavalry. The first Greeks to come into contact with the Iranians were the Ionians, who lived on the coast of Asia Minor and were constantly threatened by the Persians, the most important of the Iranian peoples.
Amazōn
is the Ionian Greek form of the Iranian word
ha-mazan,
"fighting together." The regular Greek form would be
hamazōn,
but because the Ionians dropped their aitches like Cockneys,
hamazōn
became
amazōn,
the form taken into the other Greek dialects.
The American Heritage® Dictionary of the English Language, 4th edition Copyright © 2010 by Houghton Mifflin Harcourt Publishing Company. Published by Houghton Mifflin Harcourt Publishing Company. All rights reserved.
---
amazon - Computer Definition
amazon
Variant of Amazon
noun
Gr. Myth.

any of a race of female warriors supposed to have lived in Scythia, near the Black Sea
a tall, strong, aggressive woman
a small, greenish parrot (genus Amazona) of Central and South America, often kept as a pet
any of a genus (Polyergus) of ants that makes slaves of other ants
Origin: Classical Latin ; from Classical Greek Amazōn, of unknown origin, originally , but derived, derivative by folk etymology ; from a-, without plush mazos, breast, hence the story that the Amazons cut off one breast to facilitate archery