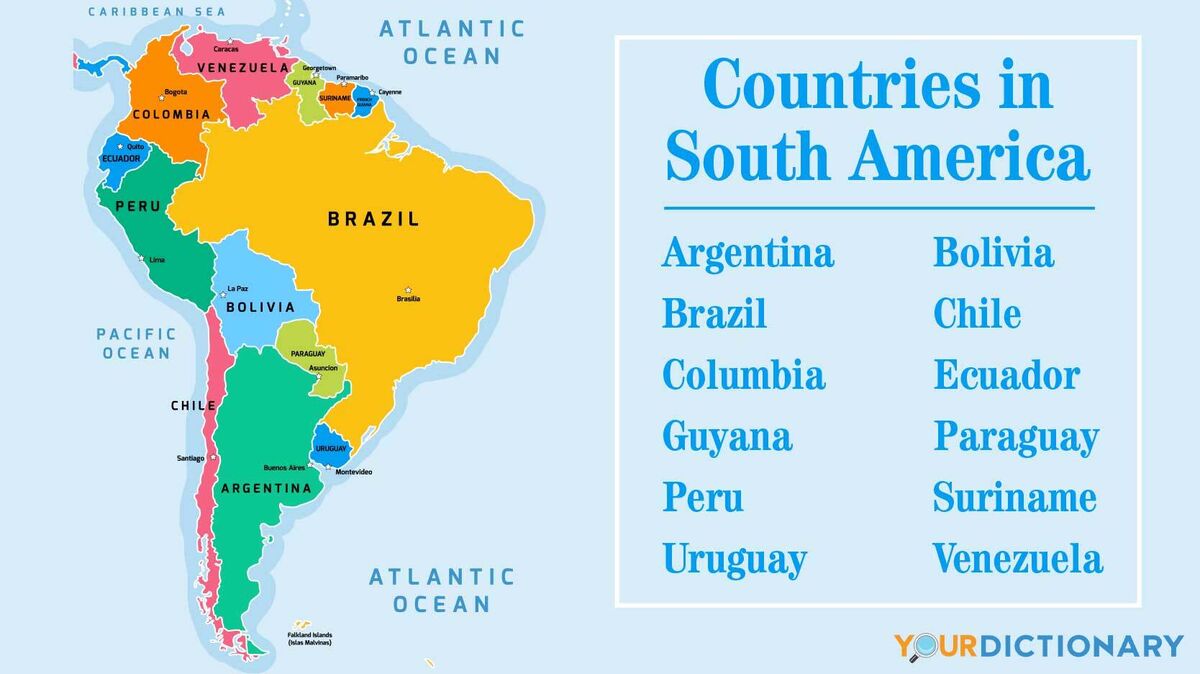 Over 433 million people live in South America. But how many countries are in South America, and what languages do the citizens of each country speak? Keep reading for a list of the countries and territories in South America, as well as important information about each.
Countries in South America
Even though 12 countries share the South American continent, they are very different from each other. For example, there are 9 Spanish-speaking countries in South America; the other 3 countries do have Spanish speakers living there, but Spanish is not their official language. Check out the 12 countries in South America and how different they are.
Argentina is not only the largest Spanish-speaking country in South America, it's the largest Spanish-speaking country in the world. At over 2.8 million square kilometers (1.1 million square miles), Argentina is the second-largest country in South America behind Brazil. Its official language is Spanish, although many citizens also speak English, Italian and German.
The nearly 1.1 million square kilometers (424,052 square miles) of Bolivia include a variety of geographical features, including the Andes Mountains, the Amazon Basin and the highest navigable lake in the world (Lake Titicaca, which lies between the Bolivian and Peruvian borders). It is the eighth-most populated country in South America after Ecuador, and its citizens mostly speak Spanish and the indigenous languages of Quechua and Aymara.
Nearly half of all South Americans live in Brazil, which is the largest South American country in both area (8.5 million square kilometers, 3.3 million square miles) and population (over 214 million citizens). It is the only country in South America with Portuguese as its official language, though Brazilians also speak Spanish, English and French. Brazil's most prominent landforms are the Brazilian Highlands and the Amazon Rainforest.

Although Chile borders the Pacific Ocean, it's also home to the driest place on Earth (Atacama Desert). Chile is the sixth most populous country in South America with over 19 million citizens and is the seventh-largest by area (756,096 square kilometers, 291,855 square miles). The primary language spoken in Chile is Spanish.

Columbia is the second most populous South American country with over 51 million citizens. Over 99% of those citizens speak Spanish, with many people speaking varieties of Amerindian languages as well. Columbia is located in the northern part of South America, just southwest of Venezuela, and is 1.1 million square kilometers (440,715 square miles).
Ecuador is the fourth-smallest country in South America at 276,841 square kilometers (106,861 square miles). It borders the Pacific Ocean, the Amazon Basin and the Andes Mountains. Spanish is the official language of Ecuador, although Quechua and Amerindian dialects are also commonly spoken in the country. The Galapagos Islands are an Ecuadorian province.

Guyana is located east of Venezuela, north of Brazil and west of Suriname. It's the only South American country where English is the official language because of its history as a British colony; however, most citizens speak a Guyanese Creole language. Guyana has over 700,000 citizens, making it the second least populous country in South America, and is 214,969 square kilometers (82,978 square miles) large.

Paraguay is often referred to as the Corazón de America (the Heart of America) because of its central location on the continent. Paraguay is the ninth largest country in South America in both area (406,752 square kilometers, 157,006 square miles) and population (over seven million citizens). Spanish is Paraguay's official language, although many Paraguayans still speak Guarini, an early language from Paraguay's earliest tribes.

The third-largest country (1.2 million square kilometers, 496,093 square miles) in South America is the home of the Machu Picchu ruins and the source of the Amazon River. Peru is also home to over 33 million South Americans, most of whom speak Spanish, Quechua, Aymara, or different Amazonian languages.
Suriname, the smallest South American country at 163,820 square kilometers (63,235 square miles) and around 500,000 citizens, is located directly above Brazil, the largest South American country. While Suriname's official language is Dutch, most citizens speak other languages (including Sranan Tongo, Hindi, Chinese, Javanese, and Spanish) and learn Dutch as a second language. Suriname also borders Guyana and French Guinea

Toward the southern coast of South America is Uruguay, whose area is 181,034 square kilometers (69,879 square miles), only 13,000 square kilometers larger than Suriname. More than one-third of its 3.4 million citizens live in Montevideo, the capital city of Uruguay. The official language of Uruguay is Spanish, though due to its shared border with Brazil, most citizens speak Portuñol or Brazilero — a creole language like Spanglish.
Venezuela is the northernmost country in South America. It borders Columbia, Brazil, Guyana, and the Caribbean Sea. Venezuela is the sixth largest South American country (916,445 square kilometers, 353,748 square miles), where over 27 million people speak Spanish, Chinese, Portuguese, Italian, or indigenous languages.

Territories in South America
Beyond the 12 official South American countries are the three South American territories. French Guiana is a continental territory, while the Falkland Islands and South Georgia and the South Sandwich Islands can be found off the South American coastline.
Known as Islas Malvinas in Argentina, the Falkland Islands is a small archipelago off Argentina's Patagonian coast. It is one of 14 British Overseas Territories around the world, meaning that it has its own government but is still maintained by the United Kingdom as of 1833. Argentina tried to claim the islands back with a military invasion in 1982, but they remained in British control. Nearly 3,000 people live on the Falkland Islands, where the official language is English.
French Guiana, which borders Suriname and Brazil in northeastern South America, is one of the overseas collectivities (collectivité d'outre-mer) of France. More than 296,000 people live in French Guiana and speak French or Guianese Creole, although the word Guiana comes from the Amerindian language Arawak. Ninety-eight percent of the territory is covered in forests.
South Georgia and the South Sandwich Islands
South Georgia and the South Sandwich Islands, a British territory, is closer to the Antarctic Peninsula in the Atlantic Ocean than the Falkland Islands. The islands have a combined population of roughly 30 people, as most of the territory is uninhabitable, and there is no native population. However, it is an increasingly popular destination for cruises and tourists.
South America is an incredibly diverse continent, both in terms of geography, animal and plant species, and the ethnic makeup of its population. Learn more about the American continents with a list of countries in Central America. You can also head north with a list of all the countries and territories in North America.