noun
The definition of an insect is a bug- a small anthropoid with six legs and, sometimes, wings.

An ant is an example of an insect.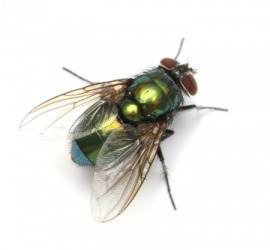 A fly is one type of insect.
---
insect
noun
any of a large class (Insecta) of small arthropod animals characterized, in the adult state, by division of the body into head, thorax, and abdomen, three pairs of legs on the thorax, and, usually, two pairs of membranous wings, including beetles, bees, flies, wasps, and mosquitoes

popularly

any small arthropod, usually wingless, including spiders, centipedes, pill bugs, and mites
an unimportant or contemptible person
Origin of insect
; from Classical Latin
insectum (animale
), literally , notched (animal), neuter of past participle of
insecare
, to cut into ; from
in-
, in +
secare
, to cut (see
saw
): from the segmented bodies: compare entomo-
---
insect
noun
a. Any of numerous arthropod animals of the class Insecta, having an adult stage characterized by three pairs of legs and a body segmented into head, thorax, and abdomen and usually having one or two pairs of wings. Insects include the flies, crickets, mosquitoes, beetles, butterflies, and bees.

b. Any of various other small, chiefly arthropod animals, such as spiders, centipedes, or ticks, usually having many legs. Not in scientific use.

An insignificant or contemptible person.
Origin of insect
Latin
īnsectum
, from neuter past participle of
īnsecāre
,
to cut up
(translation of Greek
entomon
,
segmented, cut up, insect
) :
in-
,
in
; see
in–
2
+
secāre
,
to cut
; see
sek-
in Indo-European roots.
Related Forms:
---
insect
---