bumble bee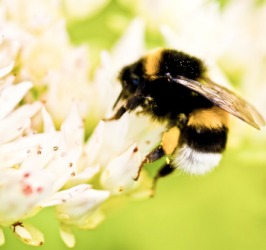 A bumble bee collecting nectar.
noun
The definition of a bumble bee is a large bee with yellow and black markings. The common name for this insect is often spelled "bumblebee." However, according to the Entomological Society of America (ESA) the correct common name of this insect is "bumble bee."

An example of a bumble bee is a large, hairy yellow-striped bee that moves from flower to flower collecting pollen.
---
bumble-bee

Noun
(plural bumble-bees)
Alternative spelling of bumblebee.
---