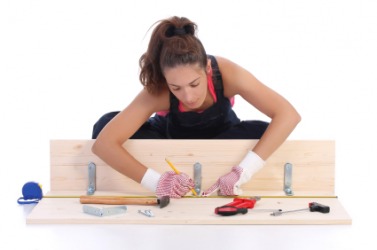 A carpenter at work.
---
carpenter definition by Webster's New World
noun
a workman who builds and repairs wooden things, esp. the wooden parts of buildings, ships, etc.
Origin: Middle English and amp; Anglo-French ; from Late Latin carpentarius, carpenter, wagon maker ; from Classical Latin carpentum, two-wheeled carriage, cart ; from Gaulish
intransitive verb
to do a carpenter's work
transitive verb
to make or repair by or as if by carpentry
Webster's New World College Dictionary Copyright © 2010 by Wiley Publishing, Inc., Cleveland, Ohio. Used by arrangement with John Wiley & Sons, Inc.
---
carpenter definition by American Heritage Dictionary
noun
A skilled worker who makes, finishes, and repairs wooden objects and structures.
verb
car·pen·tered
,
car·pen·ter·ing
,
car·pen·ters
verb
, transitive
To make, finish, or repair (wooden structures).
verb
, intransitive
To work as a carpenter.
Origin: Middle English, from Anglo-Norman, from Latin carpentārius (artifex), (maker) of a carriage, from carpentum, a two-wheeled carriage, of Celtic origin; see kers- in Indo-European roots.
Related Forms: