soldier

sol·dier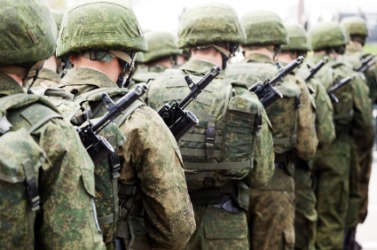 A row of soldiers.
noun
The definition of a soldier is a person who serves in the military.

A man or a woman serving in the Army is an example of a soldier.
verb
To soldier is to serve in an army or to persevere and continue on with something that is difficult.

When you are faced with obstacles to a project and you just keep on going and working through, this is an example of a time when you soldier on with your project.
---
soldier
a person serving in an army; member of an army

an enlisted person, as distinguished from one holding a warrant or commission
any low-ranking member of a Mafia family

one who has much military experience or military skill
a person who works zealously for a specified cause
an ant or termite of a caste having an enlarged head and jaws and serving as fighters in defense of the colony
Origin of soldier
Middle English
soldiour
from Old French
soldier
from
solde
, coin, pay from Late Latin
solidus
: see solidus
to serve as a soldier
to proceed stubbornly or doggedly: usually with on
to shirk one's duty, as by making a pretense of working, feigning illness, etc.
---
soldier
noun
One who serves in an army.
An enlisted person or a noncommissioned officer.
An active, loyal, or militant follower of an organization.

a. A nonreproductive ant or termite that has a large head and powerful jaws.

b. One of a group of honeybees that swarm in defense of a hive.
intransitive verb
sol·diered, sol·dier·ing, sol·diers
To be or serve as a soldier.
To make a show of working in order to escape punishment.
Phrasal Verbs:
soldier on
To continue to do something, especially when it is difficult or tedious; persevere:
"As Russia decayed, these Siberians soldiered on, finding ways to live and enjoy life"
(
Jeffrey Tayler
)
Origin of soldier
Middle English
soudier
mercenary
from
Anglo-Norman
soudeour, soldeier
Old French
soudoior, soudier
both from
Old French
sol, soud
sou
from
Late Latin
solidum, soldum
pay
from
solidus
solidus
; see
solidus
.
Related Forms:
---
soldier

Noun
(plural soldiers)
A member of an army, of any rank.
A guardsman.
A member of the Salvation Army.
(UK, New Zealand) A piece of buttered bread (toast), cut into a long thin strip and dipped into a soft-boiled egg.
A term of affection for a young boy.
The red or cuckoo gurnard (Trigla pini).
One of the asexual polymorphic forms of white ants, or termites, in which the head and jaws are very large and strong. The soldiers serve to defend the nest.
Verb
(third-person singular simple present soldiers, present participle soldiering, simple past and past participle soldiered)
To continue.
To be a soldier.
To intentionally restrict labor productivity; to work at the slowest rate that goes unpunished. Has also been called dogging it or goldbricking. (Originally from the way that conscripts may approach following orders. Usage less prevalent in the era of all-volunteer militaries.)
Origin
From Middle English soudeour, from Anglo-Norman soudeer or soudeour 'mercenary', from Medieval Latin soldarius 'soldier (one having pay)', from Late Latin solidus, a type of coin.
---