noun
The definition of a pilot is a person licensed or qualified to fly a plane or spacecraft or operate a ship.

An example of a pilot is the person flying an airplane.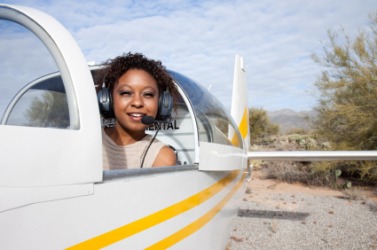 The pilot of a small plane.
---
pilot definition by Webster's New World
noun
Archaic

helmsman
a person licensed to direct ships into or out of a harbor or through difficult waters

a person qualified to operate the controls of an aircraft or spacecraft
a guide; leader
a device that guides the action of a machine or machine part
☆ a metal frame on the front of a locomotive, to remove obstructions from the track

pilot light (sense )
pilot film
Origin: Middle French pilote ; from Italian pilota, pedoto ; from Medieval Greek an unverified form pēdōtēs ; from Classical Greek pēdon, oar blade (in plural , rudder), akin to pous, foot
transitive verb
to act as a pilot of, on, in, or over
to guide; conduct; lead
adjective
that serves as a guide or guiding device
that serves as an activating device
that serves as a trial unit for experimentation or testing
Webster's New World College Dictionary Copyright © 2010 by Wiley Publishing, Inc., Cleveland, Ohio. Used by arrangement with John Wiley & Sons, Inc.
---
pilot definition by American Heritage Dictionary
noun
One who operates or is licensed to operate an aircraft in flight.
Nautical

a. One who, though not belonging to a ship's company, is licensed to conduct a ship into and out of port or through dangerous waters.

b. The helmsman of a ship.

One who guides or directs a course of action for others.
The part of a tool, device, or machine that leads or guides the whole.
A pilot light, as in a stove.
A television program produced as a prototype of a series being considered for adoption by a network.
transitive verb
pi·lot·ed
,
pi·lot·ing
,
pi·lots
To serve as the pilot of.
To steer or control the course of. See Synonyms at guide.
adjective
Serving as a tentative model for future experiment or development: a pilot project.
Serving or leading as guide.
Origin: Obsolete French, helmsman, from Old French, from Old Italian pilota, alteration of pedota, from Medieval Greek *pēdōtēs, from Greek pēda, steering oar, pl. of pēdon, blade of an oar; see ped- in Indo-European roots.
Word History:
The pilot of an aircraft speeding through the air and the pilot of a watercraft plowing through the water both drag an etymological foot on the ground. Surprisingly enough, considering its modern contexts, the English word
pilot
can be traced back to the Indo-European root
*ped-,
meaning "foot." From the lengthened-grade suffixed form
*pēdo-
came the Greek word
pēdon,
"blade of an oar," and in the plural, "steering oar." In Medieval Greek there is assumed to have existed the derivative
*pēdōtēs,
"steersman," which passed into Old Italian and acquired several forms, including
pedota,
and
pilota,
the form that was borrowed into Old French as
pilot.
English borrowed the word from French, and as
pilot
it has moved from the water to the air, first being recorded in 1848 with reference to an airborne pilot—a balloonist.
The American Heritage® Dictionary of the English Language, 4th edition Copyright © 2010 by Houghton Mifflin Harcourt Publishing Company. Published by Houghton Mifflin Harcourt Publishing Company. All rights reserved.
---
pilot - Computer Definition
(1) (Programmed Inquiry Learning Or Teaching) A high-level programming language used to generate question-and-answer courseware. A version that incorporated turtle graphics ran on Atari computers.
(2) (Pilot Software, Cambridge, MA, www.pilotsoftware.com) A corporate provider of business analytics solutions whose technologies included PilotWorks Suite, a business intelligence product with more than 15 years of development, and Pilot Hit List, which is software for Web site reporting and analysis. In early 2007, Hit List was acquired by Web analytics company Marketwave, and shortly thereafter, Pilot itself was acquired by SAP.