route

route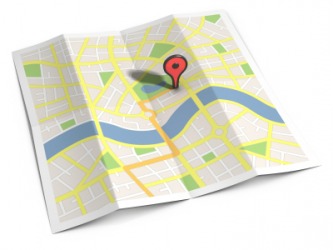 This route shows several routes.
noun
The definition of a route is a path for travel.

An example of a route is a path from Ronks, Pennsylvania to Mount Joy, Pennsylvania.
verb
To route is defined as to create a path or to go on a path.

An example of to route is to plan a path from Ohio to Virginia.
---
route
a road, way, or course for traveling; esp., a highway
a course taken to achieve some end: an unorthodox career route

a regular course traveled as in delivering mail, milk, newspapers, etc.
a set of customers whom one regularly visits to make deliveries, solicit sales, etc.

Archaic

an order for troops to march
Origin of route
Middle English from Old French
route, rote
from Classical Latin
rupta
(
via
), (path) broken through from feminine of
ruptus,
past participle of
rumpere,
to break: see rupture
transitive verb
rout′ed

,

rout′ing
to direct, send, forward, or transport by a specified route: to route goods through Omaha
to fix the order of procedure of (a series of operations, etc.): to route orders through the sales department
go the route
Informal, Baseball
to pitch an entire game
---
route
noun
Abbr. Rt. or Rte.

a. A road, course, or way for travel from one place to another: the route from Maine to Boston takes you through New Hampshire; ocean routes that avoided the breeding grounds of whales.

b. A highway: traveled on Route 12 through Michigan.

A fixed course or territory assigned to a salesperson or delivery person.
A means of reaching a goal: The route to success required hard work.
Football A pass pattern.
transitive verb
rout·ed, rout·ing, routes
To send or forward by a specific route. See Synonyms at send1.
To schedule the order of (a sequence of procedures).
Origin of route
Middle English
from
Old French
from
Latin
rupta (via)
broken (road)
feminine past participle of
rumpere
to break
; see
rout
1
.
---
route

Verb
(third-person singular simple present routes, present participle routing or routeing (UK), simple past and past participle routed)
To direct or divert along a particular course.

All incoming mail was routed through a single office.

(Internet) to connect two local area networks, thereby forming an internet
Origin
From Old French route, rote (French: route) "road, way, path" (source: route on Etymonline)
---