diagram

di·a·gram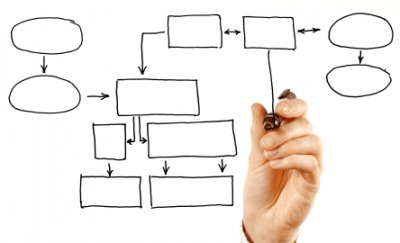 A person creating a diagram.
noun
The definition of a diagram is a graph, chart, drawing or plan that explains something by showing how the parts relate to each other.

An example of diagram is a chart showing how all the departments within an organization are related.
---
diagram
a geometric figure, used to illustrate a mathematical statement, proof, etc.
a sketch, drawing, or plan that explains a thing by outlining its parts and their relationships, workings, etc.
a chart or graph explaining or illustrating ideas, statistics, etc.
Origin of diagram
Classical Greek
diagramma
from
diagraphein
, to mark out by lines, draw from
dia-
(see dia-) +
graphein
, to write (see graphic)
transitive verb
-·gramed·

or

-·grammed·

,

-·gram·ing

or

-·gram·ming
to show or represent by a diagram; make a diagram of
---
diagram
noun
A plan, sketch, drawing, or outline designed to demonstrate or explain how something works or to clarify the relationship between the parts of a whole.
Mathematics A graphic representation of an algebraic or geometric relationship.
A chart or graph.
transitive verb
di·a·grammed, di·a·gram·ming, di·a·grams,
or
di·a·gramed
di·a·gram·ing
To indicate or represent by or as if by a diagram.
Origin of diagram
Latin
diagramma
figure
from
Greek
a figure worked out by lines, plan
from
diagraphein
to mark out, delineate
dia-
dia-
graphein
to write
; see
gerbh-
in Indo-European roots.
Related Forms:
di′a·gram′ma·ble

adjective
di′a·gram·mat′ic di′a·gram·mat′i·cal

adjective
di′a·gram·mat′i·cal·ly

adverb
---
diagram

Noun
(plural diagrams)
A plan, drawing, sketch or outline to show how something works, or show the relationships between the parts of a whole.

Electrical diagrams show device interconnections.

(category theory) A functor from an index category to another category. The objects and morphisms of the index category need not have any internal substance, but rather merely outline the connective structure of at least some part of the diagram's codomain. If the index category is J and the codomain is C, then the diagram is said to be "of type J in C".
Verb
(third-person singular simple present diagrams, present participle diagraming or diagramming, simple past and past participle diagramed or diagrammed)
---