noun
The definition of a diagram is a graph, chart, drawing or plan that explains something by showing how the parts relate to each other.

An example of diagram is a chart showing how all the departments within an organization are related.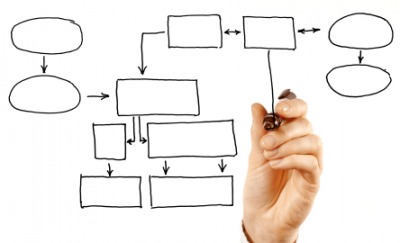 A person creating a diagram.
---
diagram definition by Webster's New World
noun
a geometric figure, used to illustrate a mathematical statement, proof, etc.
a sketch, drawing, or plan that explains a thing by outlining its parts and their relationships, workings, etc.
a chart or graph explaining or illustrating ideas, statistics, etc.
Origin: Classical Greek diagramma ; from diagraphein, to mark out by lines, draw ; from dia- (see dia-) plush graphein, to write (see graphic)
Webster's New World College Dictionary Copyright © 2010 by Wiley Publishing, Inc., Cleveland, Ohio. Used by arrangement with John Wiley & Sons, Inc.
---
diagram definition by American Heritage Dictionary
noun
A plan, sketch, drawing, or outline designed to demonstrate or explain how something works or to clarify the relationship between the parts of a whole.
Mathematics A graphic representation of an algebraic or geometric relationship.
A chart or graph.
transitive verb
di·a·grammed
or
di·a·gramed
,
di·a·gram·ming
or
di·a·gram·ing
,
di·a·grams
To indicate or represent by or as if by a diagram.
Origin: Latin diagramma, figure, from Greek, a figure worked out by lines, plan, from diagraphein, to mark out, delineate : dia-, dia- + graphein, to write; see gerbh- in Indo-European roots.
Related Forms:
diˈa·gramˌma·ble

adjective
diˌa·gram·matˈic , diˌa·gram·matˈi·cal

adjective
diˌa·gram·matˈi·cal·ly

adverb