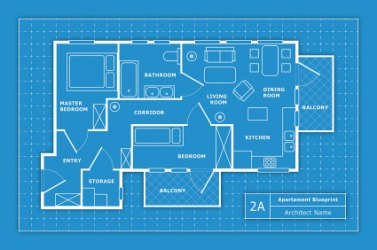 A blueprint for an apartment.
noun
A blueprint is defined as a copy of a building or engineering plan, reproduced with white lines on a blue background, or detailed plan of action.

An example of a blueprint is a construction worker's diagram of building plans for a new home.
verb
The definition of blueprint means to make a copy of a building plan, or to make a detailed plan.

An example of blueprint is to draw a to scale a home that is to be built and then photocopy the drawing using the blueprint process.
---
blueprint
a photographic reproduction in white on a blue background, as of architectural or engineering plans
any exact or detailed plan or outline
---
blueprint
noun
A contact print of a drawing or other image rendered as white lines on a blue background, especially such a print of an architectural plan or technical drawing. Also called cyanotype .
A mechanical drawing produced by any of various similar photographic processes, such as one that creates blue or black lines on a white background.
A detailed plan of action. See Synonyms at plan.
A model or prototype.
transitive verb
blue·print·ed, blue·print·ing, blue·prints
To make a blueprint of.
To lay a plan for.
---
blueprint

Noun
(plural blueprints)
A type of paper-based reproduction process producing white-on-blue images, used primarily for technical and architecture's drawings, now largely replaced by other technologies.
A print produced with this process.
(architecture, engineering, by extension) A detailed technical drawing (now often in some electronically storable and transmissible form).
(informal, by extension) Any detailed plan, whether literal or figurative.
Verb
(third-person singular simple present blueprints, present participle blueprinting, simple past and past participle blueprinted)
To make a blueprint for.

The architect blueprinted the renovation plan once the client had signed off.

To make a detailed operational plan for.

They blueprinted every aspect of the first phase of the operation.
---