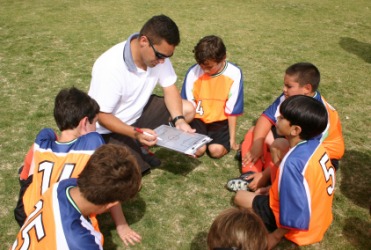 A coach discusses strategy with his team.
noun
The definition of strategy is a military plan for positioning troops for battle.

An example of strategy is the general's order for his troops to move south towards the enemy line.

Strategy is defined as a plan of action.

An example of a strategy is the soccer team using a specific play from their coach in order to win.
---
strategy
noun
pl.
-·gies
the science of planning and directing large-scale military operations, specif. (as distinguished from tactics) of maneuvering forces into the most advantageous position prior to actual engagement with the enemy
a plan or action based on this

a stratagem or the artful use of stratagems
any carefully devised plan of action: a marketing strategy
Origin of strategy
French
stratégie
from Classical Greek
strat?gia,
generalship from
strat?gos
, a general: see stratagem
Sometimes, esp. for strategysense ,
stra·te′gics
---
strategy
noun
pl.
strat·e·gies
a. The science and art of using all the forces of a nation to execute approved plans as effectively as possible during peace or war.

b. The science and art of military command as applied to the overall planning and conduct of large-scale combat operations.

A plan of action resulting from strategy or intended to accomplish a specific goal. See Synonyms at plan.
The art or skill of using stratagems in endeavors such as politics and business.
Origin of strategy
French
stratégie
from
Greek
stratēgiā
office of a general
from
stratēgos
general
; see
stratagem
.
---
strategy

Usage notes
Verbs often used with "strategy": drive, follow, pursue, execute, implement, adopt, abandon, accept, reject.
Origin
From French stratégie, from Latin strategia, from Ancient Greek στρατηγία (stratÄ"gia, "office of general, command, generalship"), from στρατηγός (stratÄ"gos, "the leader or commander of an army, a general"), from στρατός (stratos, "army") + ἄγω (ago, "I lead, I conduct").
---