map

MAP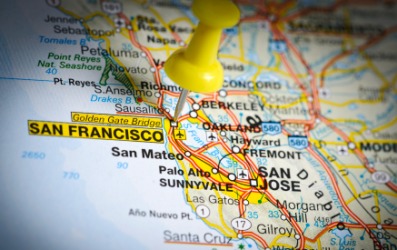 A map of the San Francisco area.
noun
The definition of a map is a representation of a particular land or sky area.

An example of map is a large piece of paper with all the roads of a state drawn on it.
verb
Map is defined as to plan out a route.

An example of map is to plan out the roads one will take from Pennsylvania to Ohio.
---
map
a drawing or other representation, usually on a flat surface, of all or part of the earth's surface, ordinarily showing countries, bodies of water, cities, mountains, etc.
a similar representation of part of the sky, showing the relative position of the stars, planets, etc.
any maplike representation or delineation

Slang

the face

Genetics

a graphic representation of the relative locations of various genes on a chromosome or plasmid
Origin of map
Medieval Latin
mappa (mundi)
, map (of the world) from Classical Latin
mappa,
napkin, cloth (on which maps were painted): said (by Quintilian) to be of Punic origin, originally ; probably from Talmudic Hebrew
mappa
from an unverified form
manpa,
contr. from
menafa,
a fluttering banner
transitive verb
mapped

,

map′ping
to make a map or maps of; represent or chart on or as on a map
to arrange or plan in detail: often with out: to map out a project
to survey or explore for the purpose of making a map

Genetics

: see mapnoun above

to locate (a particular gene) on a chromosome or plasmid
to make a genetic map of: to map the human genome

Math.

to transform, as by a mapping
put on the map
Informal
to make well known
wipe off the map
Informal
to put out of existence
Map
1140?-1209?; Welsh poet & satirist
---
map
noun
a. A representation, usually on a plane surface, of a region of the earth or heavens.

b. Something that suggests such a representation, as in clarity of representation.

Mathematics The correspondence of elements in one set to elements in the same set or another set.
Slang The human face.
Genetics A genetic map.
transitive verb
mapped, map·ping, maps
a. To make a map of.

b. To depict as if on a map: Grief was mapped on his face.

To explore or make a survey of (a region) for the purpose of making a map.
To plan or delineate, especially in detail; arrange: mapping out her future.
Genetics To locate (a gene or DNA sequence) in a specific region of a chromosome in relation to known genes or DNA sequences.
Mathematics To establish a mapping of (an element or a set).
Origin of map
From
Middle English
mapemounde
from
Old French
mapemond
from
Medieval Latin
mappa (mundī)
map (of the world)
from
Latin
napkin, cloth (on which maps were drawn)
perhaps of Punic origin
npy
Related Forms:
MAP
abbreviation
modified American plan
---
map

Noun
(plural maps)
A visual representation of an area, whether real or imaginary.
(mathematics)   A function.

The discrete topology is always continuous, therefore functions with discrete domains are always maps.

(topology)   A continuous function.
A diagram of components of an item.
The butterfly Araschnia levana.
(UK, old-fashioned)   Someone's face.
(board games, computer games)   A predefined and confined imaginary area where a game session takes place.

"I don't want to play this map again!"
Verb
(third-person singular simple present maps, present participle mapping, simple past and past participle mapped)
Origin
Shortening of Middle English mapemounde ("world map"), Old French mapamonde, from Medieval Latin mappa mundÄ«, compound of Latin mappa ("napkin, cloth") and mundus ("world"), mappa borrowed from Phoenician (compare Talmudic Hebrew מפה (maffa), contraction of [script?] (menafa, "fluttering banner")).
Initialism
(travel) modified American plan, a hotel rate that included accommodation, breakfast and dinner, but not lunch.
---
map - Computer Definition

A local area network (LAN) protocol developed by General Motors (GM) in the early 1980s for the interconnection of computers and programmable machine tools in factory or assembly line operations, MAP is based on Token Bus (IEEE 802.4) running at 1, 5, 10, and 20 Mbps. MAP sometimes is referred to as Manufacturing Automation Protocol/Technical and Office Protocol (MAP/TOP). See also 802.4, LAN, and Token Bus.
---
(1) A set of data that has a corresponding relationship to another set of data.
(2) A list of data or objects as they are currently stored in memory or disk.
(3) To assign a path or drive letter to a disk drive. See drive mapping.
(4) To transfer a set of objects from one place to another. For example, program modules on disk are mapped into memory. A graphic image in memory is mapped onto the video screen.
(5) To translate, or convert, from one format to another. For example, an address is mapped to another address. A logical database structure is mapped to the physical database.
(6) To relate one set of objects with another. For example, a vendor's protocol stack is mapped to the OSI model. An alias is mapped to the true name of the object. See alias.
(7) (MAP) (Manufacturing Automation Protocol) A communications protocol introduced by General Motors in 1982. MAP provides common standards for interconnecting computers and programmable machine tools used in factory automation. At the lowest physical level, it uses the IEEE 802.4 token bus protocol. MAP is often used in conjunction with TOP, an office protocol developed by Boeing Computer Services. TOP is used in the front office and MAP is used on the factory floor.
---