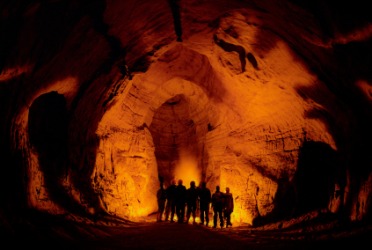 A group explore the inside of a cave.
verb
Explore is defined as to search, investigate or travel in.

An example of explore is checking out the inside of a cave.
---
explore
transitive verb
-·plored′

,

-·plor′ing
to look into closely; examine carefully; investigate
to travel in (a region previously unknown or little known) in order to learn about its natural features, inhabitants, etc.

Med.

to examine (an organ, wound, etc.) by operation, probing, etc., as in order to make a diagnosis
Origin of explore
Classical Latin
explorare
, to search out from
ex-
, out +
plorare
, to cry out, wail
to explore new regions, etc.
to search carefully, systematically, or scientifically for oil, minerals, treasure, etc.
---
explore
verb
ex·plored, ex·plor·ing, ex·plores
verb
transitive
To investigate systematically; examine: explore every possibility.
To search into or travel in for the purpose of discovery: exploring outer space.
Medicine To examine (a body cavity or interior part) for diagnostic purposes, especially by surgery.
verb
intransitive
To make a careful examination or search: scientists who have been known to explore in this region of the earth.
Origin of explore
Latin
explōrāre
ex-
ex-
perhaps
plōrāre
to cry out, as to rouse game
---
explore

Verb
(third-person singular simple present explores, present participle exploring, simple past and past participle explored)
To examine or investigate something systematically.

The committee has been exploring alternative solutions to the problem at hand.

To travel somewhere in search of discovery.

It was around that time that the expedition began exploring the Arctic Circle.

(intransitive, medicine) To examine diagnostically.
To (seek) experience first hand.

It is normal for a boy of this age to be exploring his sexuality.

(intransitive) To be engaged exploring in any of the above senses.

He was too busy exploring to notice his son needed his guidance.
Origin
From Middle French explorer, from Latin explorare ("to investigate, search out"), itself said to be originally a hunters' term meaning "to set up a loud cry", from ex- ("out") + plorare ("to cry"), but the second element is also explained as "to make to flow" (from pluere ("to flow")).
See also:
exploré
---
explore - Computer Definition
The menu name for the file manager in Windows, which is formally known as "Explorer" or "Windows Explorer." Right clicking the Start menu brings up a menu with the Explore menu option. See Explorer and Win Explorer.
---