search

search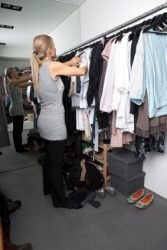 A woman searches her closet for something to wear.
noun
The definition of a search is the process of looking for something or someone.

An example of a search is a quest to find a missing person.
verb
Search is defined as to look for or examine something.

An example of search is to go through a closet looking for an old pair of shoes.
---
search
to go over or look through for the purpose of finding something; explore; rummage; examine: to search a house for a lost article
to examine (a person) for something concealed, as by running one's hands over the clothing, through the pockets, etc.
to examine closely and carefully; test and try; probe: to search one's conscience
to look through (writings, records, etc.) to establish certain facts
to find out or uncover by investigation: usually with out
Origin of search
Middle English
searchen
from Old French
cercher
from Late Latin
circare
, to go round, go about, explore from
circus
, a ring: see circus
to try to find something; make a search
to examine data in a computer in order to locate items having a given property
an act of searching; scrutiny, inquiry, or examination in an attempt to find something, gain knowledge, establish facts, etc.
the act of a belligerent in stopping and searching a neutral ship for contraband
in search of
making a search for; trying to find, learn, etc. by searching
search me!
Slang
I do not know the answer to your query
---
search
verb
searched, search·ing, search·es
verb
transitive
To move around in, go through, or look through in an effort to find something: searched the room for her missing earring; searched the desk for a pen.
To make a careful examination or investigation of; probe: search one's conscience for the right thing to do.
Law To examine (a person or property) for the purpose of discovering evidence of a crime.
verb
intransitive
To search a place or space in order to find something: searched all afternoon for my wallet.
To make a careful examination or investigation: searching for the right words to say.
Law To make a search for evidence.
noun
An act of searching.
Law The examination of a person or property, as by a law enforcement officer, for the purpose of discovering evidence of a crime.
A control mechanism on an audio or video player that rapidly advances or reverses the playing of a recording.
Phrasal Verbs:
search out
To seek to find or come to know by examination:
sought out the answer in a history book.
Origin of search
Middle English
serchen
from
Anglo-Norman
sercher
variant of
Old French
cerchier
from
Latin
circāre
to go around
from
Latin
circus
circle
from
Greek
krikos, kirkos
; see
sker-
2
in Indo-European roots.
Related Forms:
---
search

---
search - Computer Definition
(1) To look for specific data in a file or an occurrence of text in a file. A search implies either scanning content sequentially or using algorithms to compare multiple indexes to find a match. A search on the Web yields a list of Web pages that contain all the words in the search criteria (see SERP). Contrast with a "direct lookup," whereby a single index is used to keep track of data. See search engine, desktop search, Boolean search and query.
(2) The field of search engine technologies. See search engine.
---
search - Legal Definition
n
A police examination of a person's physical body, property, abode, or other area where the person would have an expectation of privacy, in order to find incriminating evidence. For a search to be legal, there must be probable cause, because the Fourth Amendment to the United States Constitution prohibits unreasonable search and seizure.
v
To look for, as in the case of looking for evidence. See also
frisk
.
---