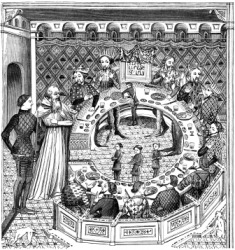 King Arthur would have sent his knights on quests.
noun
The definition of a quest is a search to find something or to achieve a goal.

An example of quest is the type of journey which was taken by the Knights of the Round Table under the direction of the King.
verb
Quest is defined as to search, seek or journey.

An example of quest is to embark on a mission to find hidden treasure.
---
quest
a seeking; hunt; pursuit
in medieval romance, a chivalric journey undertaken by a knight in order to procure or achieve a particular object or end
any journey or undertaking in pursuit of a typically lofty or noble goal

Archaic

a jury of inquest
Origin of quest
Middle English from Old French
queste
from Medieval Latin
questa
from Vulgar Latin an unverified form
quaesita,
thing sought for from Classical Latin
quaesitus,
past participle of
quaerere,
to seek, ask, inquire
to follow the track of game, or to bay in pursuit of game, as hounds do
to go in search
---
quest
noun
The act or an instance of seeking or pursuing something; a search.
An expedition undertaken in medieval romance by a knight in order to perform a prescribed feat: the quest for the Holy Grail.
Archaic

a. An inquest.

b. A jury appointed to take part in an inquest.
verb
intransitive
quest·ed, quest·ing, quests
To search for something: quested for knowledge.
To go on a quest.
To search for game or bay when sighting game, as a hound.
Origin of quest
Middle English
queste
from
Old French
ultimately from
Latin
quaesta
from
feminine of
*quaestus
obsolete past participle of
quaerere
to seek
Related Forms:
---
quest

Noun
(plural quests)
The act of seeking, or looking after anything; attempt to find or obtain; search; pursuit.

to rove in quest of game, of a lost child, of property, etc.
Verb
(third-person singular simple present quests, present participle questing, simple past and past participle quested)
To seek or pursue a goal; to undertake a mission or job.
To search for; to examine.
Origin
Partly from Anglo-Norman queste, Old French queste ("acquisition, search, hunt"), and partly from their source, Latin quaesta ("tribute, tax, inquiry, search"), noun use of quaesita, the feminine past participle of quaerere ("to ask, seek").
Abbreviations
quantized electronic structure
---
quest - Computer Definition
---