safari

sa·fa·ri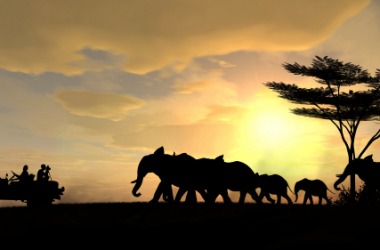 What you might see on a safari.
adjective
The definition of safari is of a style of clothing that is worn on expeditions or hunting trips, especially through Africa.

An example of safari used as an adjective is in the phrase "safari pants," which mean the style of pants that one would wear on a tour through the African jungles.
noun
Safari is defined as a sightseeing journey or hunting expedition, especially in Africa.

An example of a safari is a tour through Africa to view the elephants and lions.
---
safari
noun
pl.
-·ris
a journey or hunting expedition, esp. in E Africa
the caravan of such an expedition
Origin of safari
Swahili from Arabic
safar?
, pertaining to a journey from
safar
, to journey
designating or of a style of clothing like that worn on safaris, esp. a belted jacket with pairs of pleated pockets above and below the belt
---
safari
noun
pl.
sa·fa·ris
An overland expedition, especially one for hunting or viewing wildlife in eastern Africa.
Origin of safari
Arabic
safarīya
safari, journey
from
safar
journey
špr
---
safari

Noun
(plural safaris)
A trip into any undeveloped area to see, photograph or hunt wild animals in their own environment.
Verb
(third-person singular simple present safaris, present participle safariing, simple past and past participle safaried)
(intransitive) To take part in a safari.
---
safari - Computer Definition
The Web browser that comes with the Max OS X operating system and iPhone. Safari is noted for its fast download speed and many built-in features including the Google search bar and popup blocker. In 2007, Safari was introduced for Windows users but discontinued in 2012. See Mac OS X.
---