pilgrimage

pil·grim·age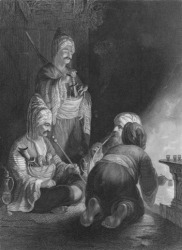 Pilgrims on their way to Mecca
noun
The definition of a pilgrimage is a long journey, especially one made by a person going to a holy place.

An example of a pilgrimage is the Hajj, the journey taken by thousands of Muslim people traveling to Mecca, Saudi Arabia.
---
pilgrimage
a journey made by a pilgrim, esp. to a shrine or holy place
any long journey, as to a place of historical interest
Origin of pilgrimage
Middle English
pilgrymage
from Old French
pelegrinage
from
pelegrin,
pilgrim
---
pilgrimage
noun
A journey to a sacred place or shrine.
A long journey or search, especially one of exalted purpose or moral significance.
intransitive verb
pil·grim·aged, pil·grim·ag·ing, pil·grim·ag·es
To go on a pilgrimage.
---
pilgrimage

Noun
(plural pilgrimages)
A journey made to a sacred place, or a religious journey.

In the Muslim faith, the pilgrimage to Mecca is known as the Hajj.
Verb
(third-person singular simple present pilgrimages, present participle pilgrimaging, simple past and past participle pilgrimaged)
To go on a pilgrimage.
---