pilgrim

pil·grim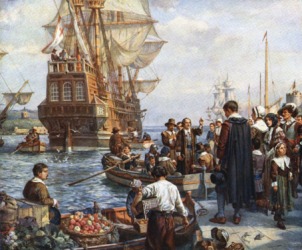 Pilgrims departing on the Mayflower
noun
The definition of a pilgrim is a person who travels somewhere for religious reasons.

An example of a pilgrim is an English Puritan who came over to Plymouth Massachusetts on the Mayflower in 1620 to escape religious persecution in England.
An example of a pilgrim is a person who travels to Israel on a religious mission.
---
pilgrim
a person who travels about; wanderer
a person who travels to a shrine or holy place as a religious act
[P-] any member of the band of English Puritans who founded Plymouth Colony in 1620
Origin of pilgrim
Middle English
pelegrim
from Old French
pelegrin
from Ecclesiastical Late Latin
pelegrinus
from Classical Latin
peregrinus,
foreigner from
peregre,
from abroad from
per,
through +
ager,
field, country: see acre
---
pilgrim
noun
A religious devotee who journeys to a shrine or sacred place.
A person who travels, especially to foreign lands or to a place of great personal importance.
Pilgrim One of the English Separatists who founded the colony of Plymouth in New England in 1620.
Origin of pilgrim
Middle English
from
Old French
peligrin
from
Late Latin
pelegrīnus
alteration of
Latin
peregrīnus
foreigner
; see
peregrine
.
---
pilgrim

Verb
(third-person singular simple present pilgrims, present participle pilgriming, simple past and past participle pilgrimed)
Origin
Middle English (early 13th century) pilegrim, from Old French pelegrin (11th century), from Latin peregrinus ("foreigner") (English peregrine ("wandering")), a derivation from per-egre; see per- + agri ("field, farm") (from which English agri- ("farming")).
The change of -r...r- to -l...r- is an effect of dissimilation in early Romance; compare Italian cognate pellegrino.
Proper noun
(plural Pilgrims)
A settler of the Plymouth Colony. Usually used in plural.
---