pioneer

pi·o·neer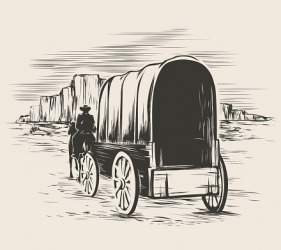 Pioneers would sometimes travel in covered wagons when they headed into the western prairies.
noun
The definition of a pioneer is the first person to do something, like to explore a new territory or to enter a military action.

An example of a pioneer is are early Americans who settled the old west.
---
pioneer
Archaic

a member of a military engineer unit trained to construct or demolish bridges, roads, trenches, etc.
a person who goes before, preparing the way for others, as an early settler or a scientist doing exploratory work
a plant, animal, etc. that starts a new cycle of life in a barren area
Origin of pioneer
French
pionnier
from Old French
peonier,
foot soldier from
peon:
see peon
being one of the first of its kind
of or characteristic of the settlers of a new territory
to prepare or open (a way, etc.)
to be a pioneer in or of
---
pioneer
noun
One who ventures into unknown or unclaimed territory to settle.
One who opens up new areas of thought, research, or development: a pioneer in aviation.
A soldier who performs construction and demolition work in the field to facilitate troop movements.
A species that is typically among the first to become established in a bare, open, or disturbed area.
adjective
Of, relating to, or characteristic of early settlers: the pioneer spirit.
Leading the way; trailblazing: a pioneer treatment for cancer.
verb
pi·o·neered, pi·o·neer·ing, pi·o·neers
verb
transitive
a. To venture into (an area) or prepare (a way): rockets that pioneered outer space.

b. To settle (a region).

To initiate or participate in the development of: surgeons who pioneered organ transplants.
verb
intransitive
To act as a pioneer: pioneered in development of the laser.
Origin of pioneer
French
pionnier
from
Old French
peonier
foot soldier
from
peon
from
Medieval Latin
pedō
pedōn-
from
Late Latin
one who has broad feet
from
Latin
pēs
ped-
foot
; see
ped-
in Indo-European roots.
---
pioneer

Noun
(plural pioneers)
One who goes before, as into the wilderness, preparing the way for others to follow.
A person or other entity who is first or among the earliest in any field of inquiry, enterprise, or progress.

Some people will consider their national heroes to be pioneers of civilization.
Certain politicians can be considered as pioneers of reform.

A member of any of several European organizations advocating abstinence from alcohol.
(communism)   A child of 10-16 years in the former Soviet Union, in the second of the three stages in becoming a member of the Communist Party.
Verb
(third-person singular simple present pioneers, present participle pioneering, simple past and past participle pioneered)
---