peon

pe·on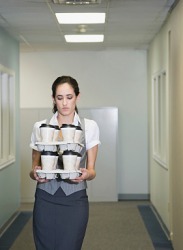 She felt like she was being treated like a peon when she was given the task of delivering coffee for the team meetings.
noun
The definition of a peon is an unimportant worker or a drudge who does menial work.

An example of a peon is the least important assistant at a busy office who does menial, boring tasks.
---
peon
in Spanish America,

a person of the landless laboring class

Historical

a person forced to work off a debt or to perform penal servitude

Historical

in the SW U.S., a person forced into servitude to work off a debt
in India and Southeast Asia,

a foot soldier
a native policeman
an attendant or messenger

an unskilled or exploited laborer

Informal

any person of low social status, esp. one employed at menial or tedious work
Origin of peon
from Spanish
peón
or (in peon sense ) Portuguese
peão,
both from Medieval Latin
pedo,
foot soldier: see pawn
---
peon
noun
A person who does menial or repetitive tasks and has a low rank in an organization or society.

a. An unskilled laborer or farm worker of Latin America or the southwest United States.

b. Such a worker bound in servitude to a landlord creditor.

In India and other parts of South and Southeast Asia, a person of menial position, especially a messenger, servant, or foot soldier.
Origin of peon
Spanish
peón
day laborer
from
Medieval Latin
pedō
pedōn-
foot soldier
; see
pioneer
.
Sense 3, from
Portuguese
peão
French
pion
foot soldier
both ultimately from
Medieval Latin
pedō
---
peon

---