slave

slave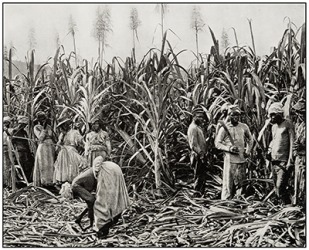 Antique photograph of slaves cutting sugar cane in Jamaica.
noun
The definition of a slave is a person who is the property of another and is under the control of the master or a person who is overly influenced by something or someone else.

An example of slave is Harriet Tubman before her escape.
An example of slave is a person who is dominated by fashion trends.
verb
Slave is defined as to work really hard for a long period of time.

An example of slave is to engage in physical labor at work for 14 hours a day.
---
slave
a human being who is owned as property by, and is absolutely subject to the will of, another; bondservant divested of all freedom and personal rights
a person who is completely dominated by some influence, habit, person, etc.: a slave to fashion
a person who slaves; drudge
slave ant
a device actuated or controlled by another, similar device
Origin of slave
Middle English
sclave
from Old French or ML: Old French
esclave
from Medieval Latin
sclavus
, slave, origin, originally , Slavic, Slavonic from Late Greek
Sklabos
, ultimately from Old Church Slavonic
Slov?ne
, native name of a Slavic people: first used of captives of Slavic origin, originally in southeastern Europe
intransitive verb
slaved

,

slav′ing
to work like a slave; drudge
to deal in slaves; be a slaver
---
slave
noun
One who is owned as the property of someone else, especially in involuntary servitude.
One who is subservient to or controlled by another: his boss's slave.
One who is subject to or controlled by a specified influence: a slave to alcohol; a slave to an irrational fear.
One who works extremely hard.
One who acts out the role of the submissive partner in a sadomasochistic relationship.
A slave ant.
A machine or component controlled by another machine or component.
intransitive verb
slaved, slav·ing, slaves
To work very hard or doggedly; toil.
To trade in or transport slaves.
To cause a machine or component to be controlled by another machine or component.
Origin of slave
Middle English
sclave
from
Old French
esclave
from
Medieval Latin
sclāvus
from
Sclāvus
Slav (from the widespread enslavement of captured Slavs in the early Middle Ages)
; see
Slav
.
Word History:
The derivation of the word
slave
encapsulates a bit of European history and explains why the two words
slave
and
Slav
are so similar; they are, in fact, historically identical. The word
slave
first appears in English around 1290, spelled
sclave.
The spelling is based on Old French
esclave
from Medieval Latin
sclavus,
"Slav, slave," first recorded around 800.
Sclavus
comes from Byzantine Greek
sklabos
(pronounced sklä′vōs) "Slav," which appears around 580.
Sklavos
approximates the Slavs' own name for themselves, the
Slověnci,
surviving in English
Slovene
and
Slovenian.
The spelling of English
slave,
closer to its original Slavic form, first appears in English in the 1500s. Slavs became slaves around the beginning of the ninth century when the Holy Roman Empire tried to stabilize a German-Slav frontier. By the 1100s, stabilization had given way to wars of expansion and extermination that did not end until 1410, when the Poles crushed the knights of the Teutonic Order at Grunwald in north-central Poland. • As far as the Slavs' own self-designation goes, its meaning is, understandably, better than "slave"; it comes from the Indo-European root
*kleu-,
whose basic meaning is "to hear" and occurs in many derivatives meaning "renown, fame." The Slavs are thus "the famous people." Slavic names ending in
-slav
incorporate the same word, such as Czech
Bohu-slav,
"God's fame," Russian
Msti-slav,
"vengeful fame," and Polish
Stani-slaw,
"famous for withstanding (enemies)."
---
slave

---
slave - Computer Definition
A computer or peripheral device controlled by another computer. For example, a terminal or printer in a remote location that only receives data is a slave. When two computers are hooked up via their serial or parallel ports for file exchange, the file transfer program may make one computer the master and the other the slave.
---