noun
Toil means continuous and hard work.

An example of toil is labor in a field for 10 hours a day.
verb
Toil is defined as to engage in difficult and continuous work.

An example of toil is to work in physical labor for 10 hours a day.
YourDictionary definition and usage example. Copyright © 2013 by LoveToKnow Corp.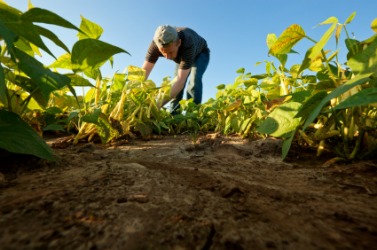 A farmer toils in his field.
Licensed from iStockPhoto
---
intransitive verb
to work hard and continuously; labor
to proceed laboriously; advance or move with painful effort or difficulty: to toil up a mountain
Origin: Middle English toilen from Anglo-French toiler, to strive, dispute from Old French toeillier, to pull about, begrime from Classical Latin tudiculare, to stir about from tudicula, small machine for bruising olives from tudes, mallet from base of tundere, to beat from Indo-European base an unverified form (s)teu- from source stock, stub
transitive verb
Now Rare
to make or accomplish with great effort
noun
Archaic

contention; struggle; strife
hard, exhausting work or effort; tiring labor
a task performed by such effort
Origin: ME toile < Anglo-Fr toil < OFr toeil, turmoil, struggle < the v.
noun
Archaic

a net for trapping
any snare suggestive of a net
Origin: OFr toile, a net, web, cloth from Classical Latin tela, web, woven material from base of texere: see text
Webster's New World College Dictionary
Copyright © 2010 by Wiley Publishing, Inc., Cleveland, Ohio.
Used by arrangement with John Wiley & Sons, Inc.
---
intransitive verb
toiled
,
toil·ing
,
toils
To labor continuously; work strenuously.
To proceed with difficulty: toiling over the mountains.
noun
Exhausting labor or effort: "A bit of the blackest and coarsest bread is . . . the sole recompense and the sole profit attaching to so arduous a toil" (George Sand). See Synonyms at work.
Archaic Strife; contention.
Origin: Middle English toilen, from Anglo-Norman toiler, to stir about, from Latin tudiculāre, from tudicula, a machine for bruising olives, diminutive of tudes, hammer.
Related Forms:
noun
Something that binds, snares, or entangles one; an entrapment. Often used in the plural: caught in the toils of despair.
Archaic A net for trapping game.
Origin: French toile, cloth, from Old French teile, from Latin tēla, web; see teks- in Indo-European roots.
The American Heritage® Dictionary of the English Language
, 4th edition Copyright © 2010 by Houghton Mifflin Harcourt Publishing Company. Published by Houghton Mifflin Harcourt Publishing Company. All rights reserved.