grind

grind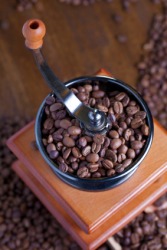 A device used to grind coffee beans.
verb
To grind is defined as to crush, reduce to a powder using friction or to rub two surfaces together forcefully.

An example of to grind is using a mortar and pestle to turn cumin seeds into cumin powder.
---
grind
transitive verb
ground

,

grind′ing
to crush into bits or fine particles between two hard surfaces; pulverize
to chop into small pieces or fine particles by means of sharp metal blades: to grind coffee beans

to afflict with cruelty, hardship, etc.; crush; oppress: often with down: a people ground down by tyranny
to sharpen, shape, or smooth by friction
to press down or together with a crushing, turning motion; rub harshly or gratingly: to grind one's teeth
to operate by turning the crank of: to grind a coffee mill
to make or produce by grinding
Origin of grind
Middle English
grinden
from Old English
grindan
from Indo-European an unverified form
ghrendh
from base an unverified form
ghren-
, to rub away, pulverize from source ground
to perform the act of grinding something
to be capable of being ground; undergo grinding
to grate

Informal

to work or study hard and steadily

Slang

to move the hips in a circular motion, as in striptease dancing
the act or operation of grinding
the degree of fineness of something ground into particles
long, difficult, tedious work or study; drudgery

Informal

a student who studies very hard

Slang

a circular movement of the hips made by or as by a striptease dancer
grind out
to produce by steady or laborious, often uninspired, effort
grind to a halt
to come gradually to a stop or to an end
---
grind
verb
ground, grind·ing, grinds
verb
transitive
a. To reduce to small bits or crush to a fine powder: grind wheat into flour; grind coffee beans.

b. To shape, sharpen, or refine with friction: grind scissors to a fine edge; grind lenses for eyeglasses.

To rub (two surfaces) together harshly; gnash: grind one's teeth.
To bear down on harshly; crush: The team's spirit was ground down by harsh losses.
To oppress or weaken gradually or persistently: "Laws grind the poor, and rich men rule the law" ( Oliver Goldsmith )
To operate by turning a crank: ground a hurdy-gurdy.
To instill or teach by persistent repetition: ground the truth into their heads.
verb
intransitive
To perform the operation of grinding something.
To become crushed, pulverized, or powdered by friction: Those coffee beans ground easily.

a. To move with noisy friction; grate: a train grinding along rusty rails.

b. To ride a skateboard, a snowboard, or skis over a grind rail or narrow surface, often with the board or skis at right angles to the direction of movement.

Informal To devote oneself to study or work: grinding for a test; grinding away at housework.
Slang To rotate the pelvis erotically, as while dancing or performing a striptease.
noun
The act of grinding.
A crunching or grinding noise.

a. A specific grade or degree of pulverization, as of coffee beans: drip grind.

b. Bits of ground coffee; grounds.

Informal A laborious task, routine, or study: the daily grind.
Informal A student who works or studies excessively.
Slang An erotic rotation of the pelvis.
Phrasal Verbs:
grind out
To produce mechanically or without inspiration:
a hack writer who grinds out one potboiler after another.
Origin of grind
Middle English
grinden
from
Old English
grindan
; see
ghrendh-
in Indo-European roots.
Related Forms:
---
grind

Verb
(third-person singular simple present grinds, present participle grinding, simple past and past participle ground or grinded)
To become ground, pulverized, or polished by friction.

This corn grinds well.
Steel grinds to a sharp edge.

To move with much difficulty or friction; to grate.
(sports) To slide the flat portion of a skateboard or snowboard across an obstacle such as a railing.
(slang) To rotate the hips erotically.
(slang) To dance in a sexually suggestive way with both partners in very close proximity, sometimes pressed against each other.
(video games) To repeat a task in order to gain levels or items.
To produce mechanically and repetitively as if by turning a crank.
To instill through repetitive teaching.

Grinding lessons into students' heads does not motivate them to learn.

(slang, Hawaii) To eat.

Eh, brah, let's go grind.
Usage notes
In the sports and video game senses, the past participle and past tense form grinded is often used instead of the irregular form ground.
Noun
(plural grinds)
The act of reducing to powder, or of sharpening, by friction.
A specific degree of pulverization of coffee beans.

This bag contains espresso grind.

A grinding trick on a skateboard or snowboard.
(archaic, slang) One who studies hard; a swot.
Grindcore (subgenre of heavy metal)
Origin
From Middle English grinden, from Old English grindan, (cognate with Dutch grind ("gravel, shingle"), from Proto-Germanic *grindaną, from Proto-Indo-European *ghrendh- ("crushing").
See also:
grínd
---
grind - Computer Definition

To continually guess passwords by creating all possible character combinations and systematically attempting to gain access to a system or service until the right password is found.
See Also: Brute-Force; Password.
GSLB (general term): GSLB stands for Global Server Load Balancing and is a very widely used concept in the world of global Internet computing. Requests to popular Web services—such as search engines, news services, shopping sites, and auctioning sites—are examined for their origin and then directed to the least used or closest server.
Graham, R. Hacking Lexicon. [Online, 2001.] Robert Graham Website. http://www.linuxsecurity.com/resource_files/documentation/hacking-dict.html.
---