verb
Grate is defined as to shred, scrape, grind or irritate.

An example of to grate is shredding cheese.
An example of to grate is getting on someone's nerves.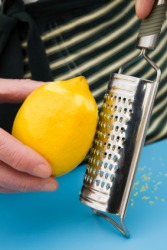 Grating a lemon.
---
grate definition by Webster's New World
transitive verb
grated, grating
to grind into shreds or particles by rubbing or scraping
to rub against (an object) with a harsh, scraping sound
to grind (the teeth) together with a rasping sound
to irritate; annoy; fret
Origin: Middle English graten ; from Old French grater (Fr gratter) ; from Frankish an unverified form kratton, akin to Old High German chrazzōn (Ger kratzen), to scratch ; from Indo-European base an unverified form gred- from source Albanian gërrusë, scraper
intransitive verb
to grind or rub with a harsh scraping or rasping sound
to make a harsh or rasping sound
to have an irritating or annoying effect
noun
grating (sense )
a frame of metal bars for holding fuel in a fireplace, stove, or furnace
a fireplace

Mining

a screen for grading ores
Origin: Middle English trellis, lattice ; from Midieval Latin grata, crata ; from Classical Latin cratis, a hurdle, crate
Webster's New World College Dictionary Copyright © 2010 by Wiley Publishing, Inc., Cleveland, Ohio. Used by arrangement with John Wiley & Sons, Inc.
---
grate definition by American Heritage Dictionary
verb
grat·ed
,
grat·ing
,
grates
verb
, transitive
To reduce to fragments, shreds, or powder by rubbing against an abrasive surface.
To cause to make a harsh grinding or rasping sound through friction: grated her teeth in anger.
To irritate or annoy persistently.
Archaic To rub or wear away.
verb
, intransitive
To make a harsh rasping sound by or as if by scraping or grinding.
To cause irritation or annoyance: a noise that grates on one's nerves.
noun
A harsh rasping sound made by scraping or rubbing: the grate of a key in a lock.
Origin: Middle English graten, from Old French grater, to scrape, of Germanic origin.
noun
A framework of parallel or latticed bars for blocking an opening.
A framework of metal bars used to hold fuel or food in a stove, furnace, or fireplace.
A fireplace.
A perforated iron plate or screen for sieving and grading crushed ore.
transitive verb
grat·ed
,
grat·ing
,
grates
To equip with a grate.
Origin: Middle English, from Medieval Latin grāta, alteration of Latin crātis, wickerwork.