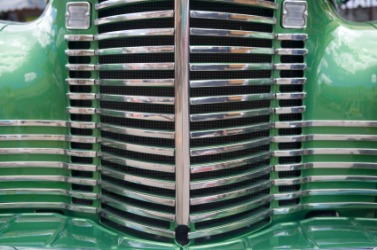 The front grille of a vintage car.
Licensed from iStockPhoto
---
noun
an open grating of wrought iron, bronze, wood, etc., forming a screen to a door, window, or other opening, or used as a divider
the metal bars in front of an automobile radiator

Court Tennis

a square opening high on the back wall of the court on the hazard side
Origin: Fr from Old French graïlle from Classical Latin craticula: see griddle
Webster's New World College Dictionary
Copyright © 2010 by Wiley Publishing, Inc., Cleveland, Ohio.
Used by arrangement with John Wiley & Sons, Inc.
---
also grill
noun
A grating of metal, wood, or another material used as a screen, divider, barrier, or decorative element, as in a window or on the front end of an automotive vehicle.
An opening covered with a grating.
Origin: French, from Old French greille; see grill.
The American Heritage® Dictionary of the English Language
, 4th edition Copyright © 2010 by Houghton Mifflin Harcourt Publishing Company. Published by Houghton Mifflin Harcourt Publishing Company. All rights reserved.