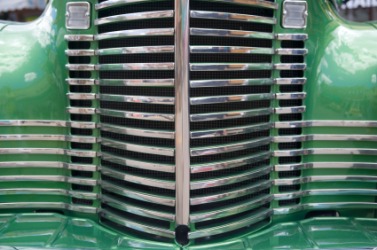 The front grille of a vintage car.
---
grille
noun
an open grating of wrought iron, bronze, wood, etc., forming a screen to a door, window, or other opening, or used as a divider
the metal bars in front of an automobile radiator

Court Tennis

a square opening high on the back wall of the court on the hazard side
Origin of grille
French ; from Old French
graïlle
; from Classical Latin
craticula
: see griddle
---
grille
also grill
noun
A grating of metal, wood, or another material used as a screen, divider, barrier, or decorative element, as in a window or on the front end of an automobile.
An opening covered with a grating.
Origin of grille
French, from Old French
greille
; see
grill
.
grille
top: at a window
bottom: on a 1956 Austin Healey
grille
---
grille
Noun
(plural grilles)
Alternative form of grill (rack, vehicle cover, etc.)
---