noun
The definition of a grill is a device for cooking that has lines of metal bars or a place where such food is cooked.

An example of a grill is a barbecue.
verb
Grill is defined as to cook on a barbecue or griddle, or to ask a series of intense questions.

An example of to grill is to cook burgers on the barbecue.
An example of to grill is to ask a suspect questions until he finally breaks down and tells what happened.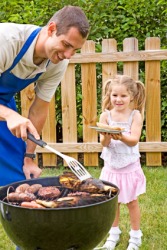 A man cooks food on a grill for his daughter.
---
grill definition by Webster's New World
noun
a cooking unit having parallel metal bars or wires on which to broil meat or fish, as

a portable or stationary outdoor device fueled by gas or charcoal
an indoor unit, sometimes part of a range

a large griddle
grilled food
grillroom
Origin: French gril ; from Old French gräil: see griddle
transitive verb
to cook on a grill; broil
to torture by applying heat
☆ to question relentlessly; cross-examine searchingly
Origin: Fr griller < the n.
intransitive verb
to be subjected to grilling
Webster's New World College Dictionary Copyright © 2010 by Wiley Publishing, Inc., Cleveland, Ohio. Used by arrangement with John Wiley & Sons, Inc.
---
grill definition by American Heritage Dictionary
transitive verb
grilled
,
grill·ing
,
grills
To broil on a gridiron.
To torture or afflict as if by broiling.
Informal To question relentlessly; cross-examine.
To mark or emboss with a gridiron.
noun
A cooking surface of parallel metal bars; a gridiron.
Food cooked by broiling or grilling.
A grillroom.
A series of marks grilled or embossed on a surface.
Variant of grille.
Origin: French griller, from gril, gridiron, from Old French greille, from Latin crātīcula; see griddle.
Related Forms: