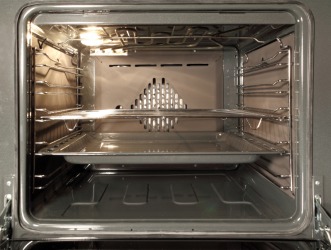 The interior of a convection oven.
adjective
The definition of convection is cooking faster, at a lower temperature and evenly.

An example of convection used as an adjective is the phrase convection oven which means an oven that blows lower temperature air directly onto the food.
noun
Convection is defined as the act of moving, transmitting or conveying.

An example of convection is the moving of liquid.
---
convection
a transmitting or conveying

the mass movement of portions of a fluid within the fluid, caused by differences in density
the transfer of heat by its absorption by a fluid at one point, followed by motion of the fluid and rejection of the heat at another point
Origin of convection
Classical Latin
convectio
from past participle of
convehere,
to bring together from
com-,
together +
vehere,
to carry, bear
designating or of an oven, grill, etc. that circulates the hot air continuously, by means of a fan, for faster, more even cooking
---
convection
noun
The act or process of conveying; transmission.
Physics

a. Heat transfer in a gas or liquid by the circulation of currents from one region to another.

b. Fluid motion caused by an external force such as gravity.

Meteorology The transfer of heat or other atmospheric properties by massive motion within the atmosphere, especially by such motion directed upward.
Origin of convection
Late Latin
convectiō
convectiōn-
from
convectus
past participle of
convehere
to carry together
Latin
com-
com-
Latin
vehere
to carry
; see
wegh-
in Indo-European roots.
Related Forms:
con·vec′tion·al

adjective
convection
Air heated by a space heater rises and is replaced by cool air, creating a convection current that circulates hot air throughout a room.
---
convection

Origin
From Latin convectionem, from convectio ("act of carrying"), from convect-, past participle of convehere ("to carry together"), combination of com- and vehere.
---