thunderstorm

thun·der·storm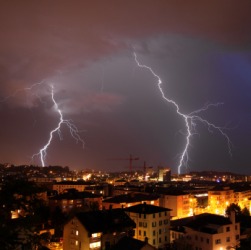 Dramatic lightning is part of this thunderstorm.
noun
The definition of a thunderstorm is a type of weather system with thunder and lightning, often with rain and hail.

How Thunderstorms Form

The basis for a thunderstorm's development is that the ground heats up and creates rising hot air. Air that is warmer than the surrounding air will rise.
The humid, rising air will condense and form droplets.

As the air cools and the water condenses, this causes a release of heat energy inside the storm, and a low pressure area under the storm which continues the cycle of rising air and condensation.
When the storm's air cannot rise any higher, the water droplets start to merge with one another, the clouds become heavier, and water begins to freeze. The ice will return to rain as it falls and melts.
There is a continuous updraft and the falling rain produces a downdraft where the wind hits the ground and spreads out. This turbulence creates wind, positive and negative charges make lightning. Tornadoes may form.

Because most of the upper part of the cumulonimbus cloud is positively charged, and the rest of the cloud is negatively charged, a discharge will occur between the cloud and the Earth's surface resulting in lightning.

When lightening heats the air, causing it to expand quickly, the rumbling of thunder is heard.

An example of a thunderstorm is a storm that has bright flashes of light in the sky from the lightning.
---
thunderstorm
a storm accompanied by thunder and lightning
---
thunderstorm
noun
A transient, sometimes violent storm of thunder and lightning, often accompanied by rain and sometimes hail.
---
thunderstorm

Noun
(plural thunderstorms)
---