pump

pump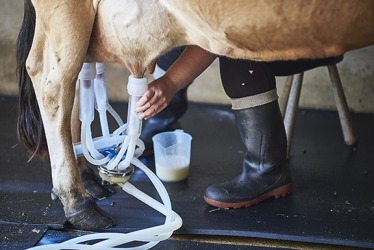 A pump used to milk a cow.
noun
The definition of a pump is a device that forces gas or liquid into something, or pulls gas or liquid out of something.

An example of a pump is what you would use to fill an air mattress.
An example ofa pump is the machine used to milk a cow.
---
pump
any of various machines that force a liquid or gas into or through, or draw it out of, something, as by suction or pressure

Informal

the heart
Origin of pump
Middle English
pumpe
from Middle Dutch
pompe
from Spanish
bomba
, probably of echoic origin, originally
to raise or move (fluids) with a pump
to remove water, etc. from, as with a pump
to drive air into with a pump or bellows
to force in, draw out, drive, move up and down, pour forth, etc. by means of a pump or as a pump does
to apply force to with a pumping, up-and-down motion

Informal

to question closely and persistently
to get (information) from a person in this way

Physics

to transfer or inject energy into (particles, the electrons of a laser, etc.)
to work a pump
to raise or move water, etc. with a pump
to move up and down or go by moving up and down like a pump handle or piston
to flow in, out, or through by, or as if by, being pumped
to fake a shot or a throw
pump iron
Slang
to exercise with weights
pump up
to inflate (a tire, ball, etc.) with air

Informal

to fill with confidence, enthusiasm, etc.

a low-cut shoe without straps or ties; esp., such a woman's shoe with a moderate to high heel
Origin of pump
from uncertain or unknown; perhaps probably from French colloquial
pompe
, boot, shoe, literally pump: jocular for a shoe which pumps in the water
---
pump
noun
A machine or device for raising, compressing, or transferring fluids.
Physiology A molecular mechanism for the active transport of ions or molecules across a cell membrane.
Physics Electromagnetic radiation used to raise atoms or molecules to a higher energy level.
Informal The heart.
Informal The place where consumers purchase gasoline. Used with the : gas prices rising at the pump.
verb
pumped, pump·ing, pumps
verb
transitive
To cause to flow by means of a pump or pumplike organ or device: Derricks pumped oil out of the ground. The heart pumps blood throughout the body.
To draw, deliver, or pour forth: a writer who pumped out a new novel every year.
To propel, eject, or insert: pumped new life into the economy.
To cause to move with an up-and-down or back-and-forth motion: a bicyclist pumping the pedals; a piston pumping a shaft.
To push or pull (a brake or lever, for instance) rapidly: a driver pumping the brakes.
To shoot (bullets, for example) at or into: a gunner pumping rounds at a target.
Physics To raise (atoms or molecules) to a higher energy level by exposing them to electromagnetic radiation at a resonant frequency.
Physiology To transport (ions or molecules) against a concentration gradient by the expenditure of chemically stored energy.
To invest (money) repeatedly or persistently in something.
To question closely or persistently: pump a witness for secret information.
Informal To promote or publicize vigorously: The company pumped its new product on its website.
verb
intransitive
To operate a pump.
To move gas or liquid with a pump or a pumplike organ or device.
To move up and down or back and forth in a vigorous manner: My legs were pumping as I ran up the stairs.
To flow in spurts: Blood was pumping from the wound.
Sports To fake a throw, pass, or shot by moving the arm or arms without releasing the ball.
Phrasal Verbs:
pump up
To inflate with gas by means of a pump:
pump up a tire.
Slang
To fill with enthusiasm, strength, or energy:
The lively debate really pumped us up.
Sports
To be actively involved in a bodybuilding program:
athletes pumping up at the gym.
Origin of pump
Middle English
pumpe
Related Forms:
pump1
top: jet pump
bottom: centrifugal pump
noun
A shoe that has a closed back and is cut low around the toes, usually with heels and no fastenings.
Origin of pump
Origin unknown
---
pump

Noun
(plural pumps)
A device for moving or compressing a liquid or gas.

This pump can deliver 100 gallons of water per minute.

An instance of the action of a pump; one stroke of a pump; any action similar to pumping

It takes thirty pumps to get 10 litres; he did 50 pumps of the weights.

A device for dispensing liquid or gas to be sold, particularly fuel.

This pump is out of order, but you can gas up at the next one.

(bodybuilding) A swelling of the muscles caused by increased blood flow following high intensity weightlifting.
(colloquial) A ride on a bicycle given to a passenger, usually on the handlebars or fender.

She gave the other girl a pump on her new bike.
Verb
(third-person singular simple present pumps, present participle pumping, simple past and past participle pumped)
To use a pump to move (liquid or gas).

I've pumped over 1000 gallons of water in the last ten minutes.

(often followed by up) To fill with air.

He pumped up the air-bed by hand, but used the service station air to pump up the tyres.

To move rhythmically, as the motion of a pump.

I pumped my fist with joy when I won the race.

To shake (a person's hand) vigorously.
To gain information from (a person) by persistent questioning.
(intransitive) To use a pump to move liquid or gas.

I've been pumping for over a minute but the water isn't coming through.

(intransitive, slang) To be going very well.

The waves were really pumping this morning.
Last night's party was really pumping.

(sports) To kick, throw or hit the ball far and high.
(Scotland, slang) To pass gas; to fart.
(computing) To pass (messages) into a program so that it can obey them.
Origin
From Middle English pumpe, possibly from Middle Dutch pompe ("pipe, water conduit") or Middle Low German pumpe ("pump"). Compare Dutch pompen, German pumpen, and Danish pompe.
Noun
(plural pumps)
(chiefly North America) A type of very high-heeled shoe; stilettoes.

She was wearing a lovely new pair of pumps.

A dancing shoe.
A type of shoe without a heel (source: Dictionarium Britannicum - 1736)
Origin
The etymology of the term is unclear and disputed. One possibility is that it comes from "Pomp" (i.e. ornamentation), claimed in Skeat & Skeat's A Concise Etymological Dictionary of the English Language (ISBN 9781596050921), and another is that it refers to the sound made by the foot moving inside the shoe when dancing, suggested as a probable source in Chambers's etymological dictionary (James Donald - Published by W. and R. Chambers, 1867). The Oxford English Dictionary claims that it appeared in the 16th century, and lists its origin as "obscure". It has also been linked to the Dutch pampoesje, possibly borrowed from Javanese "pampus", ultimately from Persian (papush) / Arabic (babush) (International archives of ethnography: Volume 9 - Intern. Gesellschaft für Ethnographie; Tijdschrift voor Nederlandsch Indië - Ter Lands-drukkerij, 1870).
---