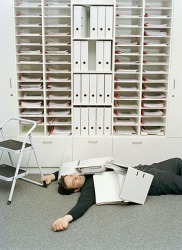 He was pummeled by the files when he fell off of the step stool.
verb
Pummeled is defined as having been hit hard over and over again.

An example of pummeled is what happened to the quarterback that kept getting hit during the game.
---
pummeled

Verb
simple past tense and past participle of pummel

His opponent was smaller but faster, and he got pummeled.
---