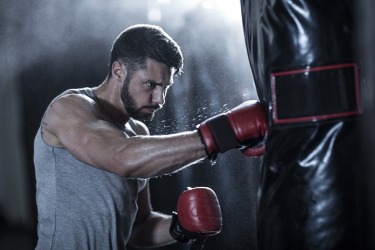 The boxer pummels the punching bag in preparation for the big fight.
verb
Pummel is defined as to hit over and over again.

An example of pummel is a boxer using a punching bag in training.
---
pummel
transitive verb
-·meled

or

-·melled

,

-·mel·ing

or

-·mel·ling
to beat or hit with repeated blows, esp. with the fist
Origin of pummel
from pommel
---
pummel
transitive verb
pum·meled, pum·mel·ing, pum·mels,
also
pum·melled
pum·mel·ling
To beat or batter, as with the fists: The angry crowd pummeled the thief. See Synonyms at beat.
To cause to undergo harm or loss: news that pummeled the stock market.
To attack or harry verbally: was pummeled with criticism.
Origin of pummel
Alteration of
pommel
---
pummel

Verb
(third-person singular simple present pummels, present participle Commonwealth pummelling, US pummeling, simple past and past participle Commonwealth pummelled, US pummeled)
To hit or strike heavily and repeatedly.

Rain pummeled the roof.
The boxer pummeled his opponent.
Origin
A synonymous alteration of to pommel
---