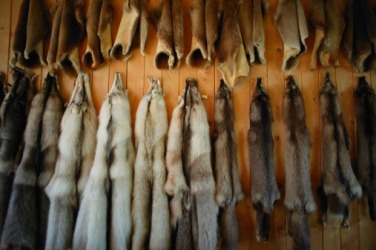 Animal pelts
noun
Pelt is the act of throwing something at someone, or the skin of an animal with the fur still attached.

The act of throwing rocks at someone is an example of a pelt.
The fur coat of a fox that was removed to make a fur coat is an example of a pelt.
verb
Pelt means to throw something at someone or something repeatedly, often for the purposes of attack.

When you throw rocks at someone, this is an example of a time when you pelt him with rocks.
When hail stones are continually falling, this is an example of pelt with hail.
---
pelt
to throw things at; strike with or as with missiles
to beat or pound heavily and repeatedly
to throw or cast (missiles)
Origin of pelt
Late Middle English
pelten
from uncertain or unknown; perhaps
pelote,
pellet
to beat or strike heavily or steadily, as hard rain
to rush or hurry
Now Rare

the act of pelting
a blow
the skin of a fur-bearing animal, esp. after it has been stripped from the carcass
the human skin: a humorous usage
Origin of pelt
ME, probably back-formation from Old French
peleterie:
see peltry
---
pelt
noun
The skin of an animal with the fur or hair still on it.
A stripped animal skin ready for tanning.
Origin of pelt
Middle English
probably from
Old French
pelete
diminutive of
pel
skin
from
Latin
pellis
; see
pel-
3
in Indo-European roots.
verb
pelt·ed, pelt·ing, pelts
verb
transitive
a.

To strike or assail repeatedly with thrown objects:

pelted each other with snowballs.

See Synonyms at

barrage2

.

b. Archaic To strike (someone) with blows, as with a club.

To hurl or throw (missiles): children who pelted stones at the neighbors' windows.
To fall upon; strike repeatedly: Hailstones pelted the tent.
verb
intransitive
To fall heavily or abundantly; beat: The rain pelted down all day.
To move at a vigorous gait: "A rider on a lathered horse came pelting down the Orange Plank Road" ( Stephen W. Sears )
Origin of pelt
Middle English
pelten
variant of
pilten
perhaps ultimately from
Latin
pultāre
to beat
variant of
pulsāre
frequentative of
pellere
to strike
; see
pel-
5
in Indo-European roots.
Related Forms:
---
pelt

Origin
From Old French pelette, diminutive of pel ("a skin"), from Latin pellis. Alternatively a contraction of peltry ("skins") from the same Old French and Latin roots.
Verb
(third-person singular simple present pelts, present participle pelting, simple past and past participle pelted)
To throw; to use as a missile.

The children pelted apples at us.

(intransitive) To throw out words.
To move rapidly, especially in or on a conveyance.

The boy pelted down the hill on his toboggan.
Noun
(plural pelts)
A blow or stroke from something thrown.
Anagrams
Part or all of this entry has been imported from the 1913 edition of Webster's Dictionary, which is now free of copyright and hence in the public domain. The imported definitions may be significantly out of date, and any more recent senses may be completely missing.
Origin
Possible contraction of pellet
---