pepper

pep·per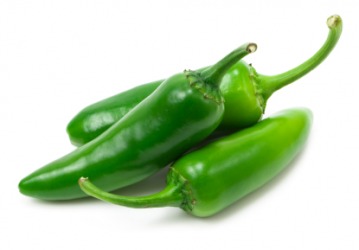 A group of fresh jalapeno peppers.
noun
Pepper is a smooth-skinned, soft-stemmed fruit, or a spicy seasoning made from grinding this fruit after it's dried.

An example of a pepper is a jalapeño.
An example of pepper is the black speckled seasoning in a shaker on the table next to the salt.
verb
Pepper is defined as to sprinkle, or to flavor with the ground peppers.

An example of pepper is a painter splattering tiny dots of paint on a canvas.
An example of pepper is shaking chili flakes on a pizza.
---
pepper
a pungent condiment obtained from the small, dried fruits of an Indian vine (Piper nigrum) of the pepper family
this smooth, soft-stemmed vine

any of various aromatic or pungent plants of several families, as the myrtle or ginger family, used in flavoring foods

capsicum
the fruit of the capsicum; chili pepper, green pepper, red pepper, etc.

Baseball

a warm-up or practice session in which the ball is repeatedly thrown to a batter close by, who bunts it back to be fielded
Origin of pepper
Middle English
peper
from Old English
pipor
from West Germanic borrowing from Classical Latin
piper
from Classical Greek
peperi,
via Persian from Sanskrit
pippali,
peppercorn
designating a family (Piperaceae, order Piperales) of dicotyledonous plants, including cubeb
to sprinkle or flavor with ground pepper
to sprinkle freely or thickly
to shower or pelt with many small objects: a roof peppered with hailstones
to beat or hit with short, quick jabs
---
pepper
noun
a. A perennial climbing vine (Piper nigrum) native to India, widely cultivated for its long slender spikes of small fruit.

b. A pungent black or white spice produced from the dried fruit of this plant, used as a condiment.

Any of several other plants of the genus Piper, such as cubeb, betel, and kava.

a. Any of several tropical American, cultivated varieties of capsicum, having podlike, many-seeded, fruit.

b. The podlike fruit of any of these plants, varying in size, shape, color, and degree of pungency, with the milder types including the bell pepper and pimiento, and the more pungent types including the habanero.

Any of various condiments made from the more pungent varieties of capsicum, such as cayenne pepper, tabasco pepper, and chili. Also called hot pepper .
Any of various other plants producing pungent fruits, such as the Szechuan pepper.
Baseball A warm-up exercise in which players standing a short distance from a batter field the ball and toss it to the batter, who hits each toss back to the fielders. Also called pepper game .
transitive verb
pep·pered, pep·per·ing, pep·pers
To season or sprinkle with pepper.

a. To sprinkle liberally; scatter: peppered the confetti over the street.

b. To strew something over: "Large splinters and chunks of timber peppered the ground" ( John Guy )

To strike with small missiles or gunfire. See Synonyms at barrage2.
To beset repeatedly, as with questions or requests.
To distribute certain features, such as witty remarks or quotations, throughout (a discourse).
Origin of pepper
Middle English
peper
from
Old English
pipor
from
Latin
piper
long pepper, black pepper
from
Greek
peperi
of Indic origin
Prakrit
pipparī
long pepper
from
Sanskrit
pippalī
from
pippalam
berry, fruit of the pipal tree
of unknown origin
---
pepper

Noun
(countable and uncountable, plural peppers)
A plant of the family Piperaceae.
A fruit of the capsicum: red, green, yellow or white, hollow and containing seeds, and in very spicy and mild varieties.
(baseball) A game used by baseball players to warm up where fielders standing close to a batter rapidly return the batted ball to be hit again

Some ballparks have signs saying "No pepper games".
Verb
(third-person singular simple present peppers, present participle peppering, simple past and past participle peppered)
To add pepper to.
To strike with something made up of small particles.
To cover with lots of (something made up of small things).

After the hailstorm, the beach was peppered with holes.

To add (something) at frequent intervals.

He liked to pepper his conversation with long words.
---