noun
The definition of barrage is a large volume of something, or a huge amount of things happening all at once.

An example of a barrage is when 100 reporters all shoot questions at the president at the same time.
An example of barrage is a large amount of gunfire with the purpose of keeping the enemy forces from moving forward.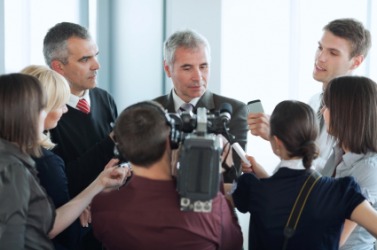 A man faces a barrage of reporters.
---
barrage definition by Webster's New World
noun
a curtain of artillery fire laid down to keep enemy forces from moving, or to cover or prepare the way for one's own forces, esp. in attack
a heavy, prolonged attack of words, blows, etc.
Origin: French in tir de barrage, barrier fire: see barrage
noun
a man-made barrier in a stream, river, etc. to deepen the water or channel it for irrigation; dam
Origin: French ; from barrer, to stop ; from barre, bar
Webster's New World College Dictionary Copyright © 2010 by Wiley Publishing, Inc., Cleveland, Ohio. Used by arrangement with John Wiley & Sons, Inc.
---
barrage definition by American Heritage Dictionary
noun
An artificial obstruction, such as a dam or irrigation channel, built in a watercourse to increase its depth or to divert its flow.
Origin: French, from barrer, to bar, from barre, bar, from Old French; see bar 1.
noun
a. A heavy curtain of artillery fire directed in front of friendly troops to screen and protect them.

b. A rapid, concentrated discharge of missiles, as from small arms.

An overwhelming, concentrated outpouring, as of words: a barrage of criticism.
transitive verb
bar·raged
,
bar·rag·ing
,
bar·rag·es
To direct a barrage at.
Origin: French (tir de) barrage, barrier (fire); see barrage1.