noun
The definition of a lawyer is someone who gives legal advice and represents people in legal matters.

An example of a lawyer is John Grisham.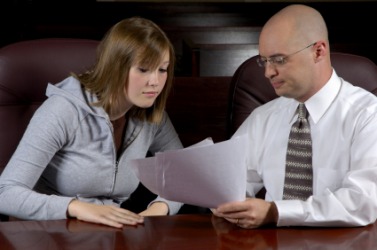 A lawyer talks with his client.
---
lawyer
noun
a person who has been trained in the law, esp. one whose profession is advising others in matters of law or representing them in lawsuits
Origin of lawyer
Middle English
lawyere
: see
law
and amp; -ier
intransitive verb
to work as a lawyer
---
lawyer
noun
One whose profession is to give legal advice and assistance to clients and represent them in court or in other legal matters.
Origin of lawyer
Middle English
lauier
, from
law
,
law
; see
Law
.
Related Forms:
---
lawyer
Noun
(plural lawyers)
A professional person qualified (as by a law degree and/or bar exam) and authorized to practice law, i.e. conduct lawsuits and/or give legal advice.
By extension, a legal layman who argues points of law.
Verb
(third-person singular simple present lawyers, present participle lawyering, simple past and past participle lawyered)
(informal) To practice law.
To perform, or attempt to perform, the work of a lawyer.
To make legalistic arguments.
With "up", to acquire the services of a lawyer.
(colloquial, criminal law) With "up", to exercise the right to ask for the presence of one's attorney.
To barrage with questions in order to get the person to admit something, usually used in the past tense "[You've been] lawyered."
---