noun
The definition of an attorney is a professional who has graduated from law school and who is licensed to represent clients in legal matters.

An example of an attorney is a person who represents you in court in a divorce, who helps you to draft your will or who files a lawsuit on your behalf after a car accident.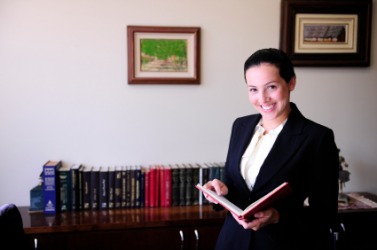 An attorney in her office.
---
attorney definition by Webster's New World
noun
pl.
attorneys
any person legally empowered to act as agent for, or in behalf of, another; esp., a lawyer
Origin: Middle English attourne ; from Old French atourne, (one) appointed, past participle of atourner: see attorn
Webster's New World College Dictionary Copyright © 2010 by Wiley Publishing, Inc., Cleveland, Ohio. Used by arrangement with John Wiley & Sons, Inc.
---
attorney definition by American Heritage Dictionary
noun
pl.
at·tor·neys
Abbr.
Att.
or
Atty.
A person legally appointed by another to act as his or her agent in the transaction of business, specifically one qualified and licensed to act for plaintiffs and defendants in legal proceedings.
Origin: Middle English attourney, from Old French atorne, from past participle of atorner, to appoint; see attorn.
Related Forms:
The American Heritage® Dictionary of the English Language, 4th edition Copyright © 2010 by Houghton Mifflin Harcourt Publishing Company. Published by Houghton Mifflin Harcourt Publishing Company. All rights reserved.
---
attorney - Legal Definition
n
Lawyer; one who dispenses legal advice to clients and advocates for them.
attorney in fact
One who is the agent or representative of another and is authorized, pursuant to a power of attorney, to act on their behalf.
attorney at law
One who is specially trained and licensed by a state to practice law.
One whose profession is to provide advice or to act or represent others in legal matters. See also district attorney, public defender, and counsel.
attorney of record
The attorney at law or the law firm designated in a court's records as representing a particular party in a particular action. As long as a party is represented by an attorney of record, all documents, correspondence, and other communications that are intended for that party, whether from the court or the other parties in the action, must go instead to the attorney of record.