proxy

prox·y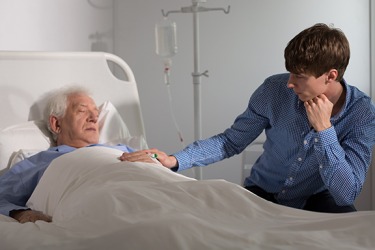 The elderly man's son was designated as his proxy.
noun
Proxy is a stand-in for someone else, the authority to stand-in for or represent someone else, or a document giving permission for someone else to vote on your behalf.

An example of proxy is someone who is named to make health care decisions for you if you are unable to do so.
An example of proxy is when you register to vote and have someone else actually cast your ballot.
---
proxy
noun
pl.
prox′ies
the agency or function of a deputy
the authority to act for another
a document empowering a person to act for another, as in voting at a stockholders' meeting
a person empowered to act for another
Origin of proxy
Middle English
prokecie
, contr. from
procuracie
, the function of a procurator, ultimately from Classical Latin
procuratio
---
proxy
noun
pl.
prox·ies
a. One appointed or authorized to act for another, especially a person appointed to vote as one wishes at a meeting.

b. The authority to act for another.

c. The written authorization to act in place of another.

An entity or variable used to model or generate data assumed to resemble the data associated with another entity or variable that is typically more difficult to research.
Computers A server that processes requests and forwards information between a client and another server.
Origin of proxy
Middle English
proccy
contraction of earlier
procracie
annual payment to a prelate
from
Anglo-Norman
procuracie
from
Medieval Latin
prōcūrātia
alteration of
Latin
prōcūrātiō
from
prōcūrātus
past participle of
prōcūrāre
to take care of
; see
procure
.
---
proxy

Adjective
(comparative more proxy, superlative most proxy)
Used as a proxy or acting as a proxy.

a proxy indicator
a proxy measurement
Verb
(third-person singular simple present proxies, present participle proxying, simple past and past participle proxied)
To serve as a proxy for.
(networking) To function as a server for a client device, but pass on the requests to another server for service.
Origin
Contraction of Anglo-Norman procuracie, from Medieval Latin procuratia, from Latin procuratio.
Noun
(plural proxies)
(gaming, slang) A proximity mine; a mine that explodes when something approaches within a certain distance.
---
proxy - Computer Definition

---
To function as an agent who works on behalf of someone else or to perform a process that acts on behalf of another. See proxy server and ghost blog.
---
proxy - Investment & Finance Definition
A ballot that allows shareholders to cast their vote at an annual or special meeting without attending the actual meeting. Typically the proxy can be mailed or cast through an automated telephone voting service or on the Internet. Proxies also can be given to someone, who then votes on behalf of the shareholder. This right may be given to an attorney, to the corporation (which will vote the shares in line with its wishes), or to another person the shareholder authorizes.
---
proxy - Legal Definition
n
One who receives the authority to speak for or act for another. A proxy is often allowed to vote in place of a corporation's stockholder(s) at a periodic meeting.
The authority itself.
---