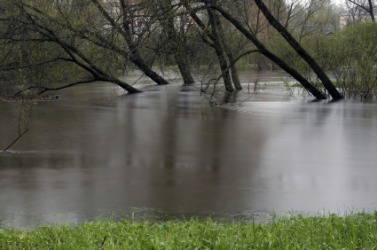 Trees in a field during a deluge.
noun
The definition of a deluge is a flood or a massive amount of something that all arrives at the same time.

An example of a deluge is a flood caused by a huge amount of rainfall in one day.
An example of a deluge is when you are given 30 books of information to review all at once on a simple subject.
verb
To deluge is defined as to flood or to overwhelm someone with anything.

An example of deluge is to have a massive amount of rain fall on a roof in a short period of time.
When you give someone massive amounts of paperwork to complete, this is an example of deluge.
---
deluge
a great flood
a heavy rainfall
an overwhelming, floodlike rush of anything: a deluge of visitors
Origin of deluge
Middle English from Old French from Classical Latin
diluvium
from
dis
, off, from +
luere
, variant, variety of
lavare
, to lave
transitive verb
-·uged·

,

-·ug·ing
to flood; inundate
to overwhelm as with a flood
the Deluge
Bible
the great flood in Noah's time: Gen. 7
---
deluge
noun
a. A great flood.

b. A heavy downpour.

Something that overwhelms as if by a great flood: a deluge of fan mail.
Deluge In the Bible, the great flood that occurred in the time of Noah.
transitive verb
del·uged, del·ug·ing, del·ug·es
To overrun with water; inundate.
To overwhelm with a large number or amount; swamp: The press secretary was deluged with requests for information.
Origin of deluge
From
Middle English
flood
from
Old French
from
Latin
dīluvium
from
dīluere
to wash away
dis-
apart
; see
dis-
.
-luere
to wash
; see
leu(ə)-
in Indo-European roots.
---
deluge

Noun
(plural deluges)
A great flood or rain.

The deluge continued for hours, drenching the land and slowing traffic to a halt.

An overwhelming amount of something; anything that overwhelms or causes great destruction.

The rock concert was a deluge of sound.
Verb
(third-person singular simple present deluges, present participle deluging, simple past and past participle deluged)
To flood with water.
To overwhelm.

After the announcement, they were deluged with requests for more information.
Origin
From Old French deluge, alteration of earlier deluvie, from Latin dīluvium, from lavō ("wash")
Proper noun
(biblical) The Biblical flood during the time of Noah.
---