avalanche

av·a·lanche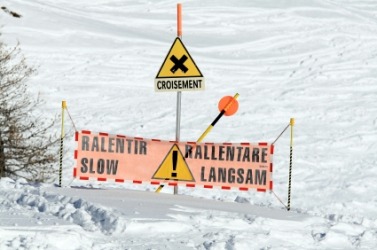 Avalanche warning signs.
noun
The definition of avalanche means a massive quantity of something that comes suddenly such as snow, ice, earth or rocks that come loose and speed down a mountain.

An example of avalanche is a glacier that splits from a cliff face and hurdles down the side of a mountain.
An example of avalanche is getting an unusually large amount of mail on a certain day.
---
avalanche
a mass of loosened snow, earth, rocks, etc. suddenly and swiftly sliding down a mountain, often growing as it descends
any large, overwhelming quantity that comes suddenly: an avalanche of mail, of blows, etc.
Origin of avalanche
French (altered after
avaler
, to descend) from
lavanche
from Provençal
lavanca
from an unverified form
lavenca
, probably a pre-Roman word in a non-IE language of northern Italy
intransitive verb
transitive verb
-·lanched·

,

-·lanch·ing
to come down (on) like an avalanche
---
avalanche
noun
A fall or slide of a large mass of material, especially of snow, down a mountainside.
A massive or overwhelming amount; a flood: received an avalanche of mail.
verb
av·a·lanched, av·a·lanch·ing, av·a·lanch·es
verb
intransitive
To fall or slide in a massive or overwhelming amount.
verb
transitive
To overwhelm; inundate.
Origin of avalanche
FrenchProvençal
lavanca
ravine
perhaps ultimately from
Latin
lābī
to slip
---
avalanche

Noun
(plural avalanches)
A large mass or body of snow and ice sliding swiftly down a mountain side, or falling down a precipice.
Anything like an avalanche in suddenness and overwhelming quantity (like a barrage, blitz, etc).
Verb
(third-person singular simple present avalanches, present participle avalanching, simple past and past participle avalanched)
(intransitive) To descend like an avalanche.
To come down upon; to overwhelm.

The shelf broke and the boxes avalanched the workers.
Origin
From French, from Franco-Provençal (Savoy) avalançhe, blend of aval 'downhill' and standard lavençhe, from Vulgar Latin *labanka (cf. Occitan lavanca, Italian valanga), alteration of Late Latin labina 'landslide' (cf. Franco-Provençal (Dauphiné) lavino, Romansch lavina), from Latin labi 'to slip, slide'.
---