ice

Ice.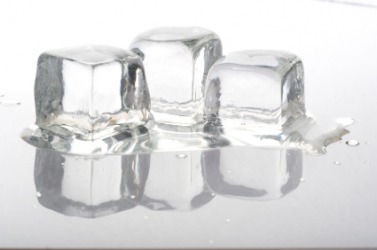 Three cubes of melting ice.
noun
The definition of ice is the solid form of water, something frozen or a cold attitude.

An example of ice is a cube dropped in a drink to cool it down.
verb
Ice is defined as to freeze or cool, cover with or change into solid water, or is slang for to kill.

An example of ice is to freeze lemonade.
---
ice
the glassy, brittle, crystalline form of water made solid by cold; frozen water
a piece, layer, or sheet of this
anything like frozen water in appearance, structure, etc.
coldness in manner or attitude

a frozen dessert, usually made of water, fruit juice, egg white, and sugar

Brit.

ice cream

Slang

a diamond or diamonds

Slang

the illegal profit made in ticket scalping, as through extra payment by ticket brokers to theater management
any money paid in bribes or graft
Origin of ice
Middle English
is
from Old English
?s
, akin to German
eis
(OHG
?s
), Danish
is
, Old Norse
iss
from Indo-European base an unverified form
eis
, an unverified form
ein-
from source Avestan
isu-
, icy, Old Church Slavonic
inej
, snow flurry
transitive verb
iced

,

ic′ing
to change into ice; freeze
to cover with ice; apply ice to
to cool by putting ice on, in, or around
to cover (cake, etc.) with icing

Slang

to kill

Ice Hockey

to shoot (the puck) from defensive to offensive territory
to freeze: often with up or over
break the ice
to make a start by getting over initial difficulties
to make a start toward getting better acquainted
cut no ice
Informal
to have no influence or effect
on ice
Slang

in readiness, reserve, or safekeeping
in abeyance
with success or victory ensured
on thin ice
Informal
in a risky, dangerous situation
Ice
-ice
condition, state, or quality of: justice, malice
Origin of -ice
Middle English
-ice, -ise, -is
from Old French
-ice
from Classical Latin
-itius
, masculine ,
-itia
, feminine ,
-itium
, neuter
---
ice
noun
Water frozen solid.
A surface, layer, or mass of frozen water.
Something resembling frozen water: ammonia ice.
A frozen dessert consisting of water, sugar, and a liquid flavoring, often fruit juice.
Cake frosting; icing.
Slang Diamonds.
Sports The playing field in ice hockey; the rink.
Extreme unfriendliness or reserve.
Slang A payment over the listed price of a ticket for a public event.
Slang Methamphetamine.
verb
iced, ic·ing, ic·es
verb
transitive
To coat or slick with solidly frozen water.
To cause to become ice; freeze.
To chill by setting in or as if in ice.
To cover or decorate (a cake, for example) with a sugar coating.
Slang To ensure of victory, as in a game; clinch.
Sports To shoot (the puck) from one's defensive half of an ice hockey rink across the opponent's goal line outside of the goal.
Slang To kill; murder.
verb
intransitive
To turn into or become coated with ice; freeze: The pond iced over.
Origin of ice
Middle English
is
from
Old English
īs
Related Forms:
ICE
abbreviation
in case of emergency
internal-combustion engine
Ice.
abbreviation
Iceland
Icelandic
---
ice

---
ice - Computer Definition

The directory name for an emergency contact number that users should enter into their cell phones. If you were to be clobbered by a train or otherwise hurt badly, others could quickly find and call an ICE number to alert friends or relatives.
---

In the Computer Underground (CU), "ice" is a fictional form of anti-cracker countermeasure, often depicted as a wall of ice. The term first appeared in William Gibson's book Neuromancer, in which he described various means of protecting systems from intrusion. In other words, IC was a software program on the Matrix to stop illegal access to company or government computer systems and valuable information stores. A number of intrusion countermeasure electronics types were available, including lethal Black IC—which could kill the intruder—and Probe IC, which hunted for system trespassers and then shot back.
Today, real world Intrusion Detection products, such as BlackICE, are modeled after the theoretical concepts. Nobody is killed and the shooting back—although technically illegal—targets the attacker's computer system.
Graham, R. Hacking Lexicon. [Online, 2001.] Robert Graham Website. http://www.linuxsecurity.com/resource_files/documentation/hacking-dict.html; Clutton, R. Welcome to the Simple Guide of Cyberpunk. [Online, June 24, 2001.] http://tip.net.au/ ~rclutton/cdict.html.
---
(1) (Information and Content Exchange) A data sharing specification that allows one website to obtain data from another website. Using meta tags, ICE provides a standard way of defining a company's data. ICE is based on XML and OPS. See XML, EPUB and meta tag.
(2) (In-Circuit Emulator) A chip used for testing and debugging logic circuits typically in embedded systems. The chip emulates a particular microprocessor and contains breakpoints and other debugging functions. See ROM emulator.
(3) (In Case of Emergency) A cellphone entry stored under the name of "ICE" that contains an emergency contact number and other medical information. It was recommended by a British paramedic, and a campaign for public awareness was launched in the U.K. in 2005. See emergency app.
(4) (Ice) A Lotus 1-2-3 add-on from Baler Software Corporation, Rolling Meadows, IL, that added extensions to Lotus macros.
---