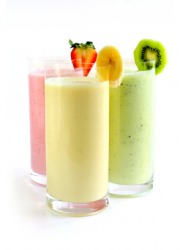 Three more frappes.
---
frappe definition by American Heritage Dictionary
noun
Rhode Island & Southeastern Massachusetts
Origin: Alteration of frappé.
noun
A frozen, fruit-flavored mixture that is similar to sherbet and served as a dessert or appetizer.
A beverage, usually a liqueur, poured over shaved ice.
Origin: French, from past participle of frapper, to strike, chill, from Old French fraper, to strike, probably of imitative origin.
frappe
Variant of frappé
☆
adjective
partly frozen; iced; cooled
Origin: French past participle of frapper, to strike
noun
a dessert made of partly frozen beverages, fruit juices, etc.
a drink made of some beverage poured over shaved ice

New England

a milkshake