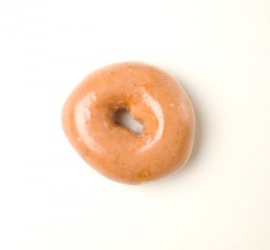 Glaze on a donut.
noun
The definition of a glaze is a glassy or glossy finish.

An example of a glaze is a frosted window pane.
verb
Glaze is defined as to put glass in a window, or to put on a glossy finish.

An example of glaze is to put syrup on donuts.
---
glaze
transitive verb
glazed

,

glaz′ing
to fit (windows, etc.) with glass
to give a hard, glossy finish or coating to; specif.,

to overlay (pottery, etc.) with a substance that gives a glassy finish when fused
to make the surface of (leather, etc.) glossy by polishing, etc.
to cover (foods) with a glassy coating of sugar syrup, gelatin, etc.
to coat (a painted surface) with a semitransparent color

to give (the eyes) a glassy look
to cover with a thin layer of ice
Origin of glaze
Middle English
glasen
from
glas
, glass
to become glassy or glossy
to form a glaze
a glassy finish, as on pottery
any substance used to produce this

a coat of semitransparent color applied to a painted surface to modify the effect
a substance, as hardened sugar syrup or gelatin, forming a glassy coating on foods
a film or coating, as on the eyes
a thin coating of ice
---
glaze
noun
A thin smooth shiny coating.
A thin glassy coating of ice.

a. A coating of colored, opaque, or transparent material applied to ceramics before firing.

b. A coating, as of syrup, applied to food.

c. A transparent coating applied to the surface of a painting to modify the color tones.

A glassy film, as one over the eyes.
verb
glazed, glaz·ing, glaz·es
verb
transitive
To fit, furnish, or secure with glass: glaze a window.
To apply a glaze to: glaze a doughnut; glaze pottery.
To coat or cover thinly with ice.
To give a smooth lustrous surface to.
verb
intransitive
To be or become glazed or glassy: His eyes glazed over from boredom.
To form a glaze.
Origin of glaze
From
Middle English
glasen
from
glas
glass
from
Old English
glæs
; see
ghel-
2
in Indo-European roots.
Related Forms:
---
glaze

Verb
(third-person singular simple present glazes, present participle glazing, simple past and past participle glazed)
To install windows.
(intransitive) To become glazed or glassy.
​ In painting, to apply a thin, transparent layer of coating.
(intransitive) For eyes to take on an uninterested appearance.
Origin
From Old English glær ("amber").
See also:
glāze
---