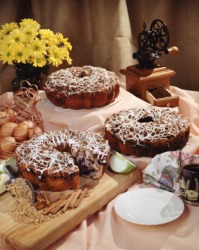 A variety of different coffeecakes.
---
coffeecake
☆
noun
a kind of cake or roll, often containing nuts, raisins, etc. or coated with sugar or icing, to be eaten with coffee or the like
---
coffeecake
noun
A cake or rich bread, often baked with a sweet crumbly topping or drizzled with a glaze after baking.
---
coffeecake
---