noun
The definition of candy is a sweet treat usually made with sugar.

Gumdrops and Snickers bars are an example of candy.
verb
To candy is defined as to cook with a sugar syrup, or to make into a crystal form.

When you use a sugar syrup to glaze yams, this is an example of when you candy yams.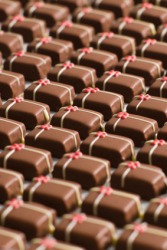 Rows of chocolate candies.
---
candy definition by Webster's New World
noun
pl.
candies
crystallized sugar made by boiling and evaporating cane sugar, syrup, etc.

a sweet food, usually in small pieces or bars, made mainly from sugar or syrup, with flavoring, fruit, chocolate, nuts, etc. added
a piece of such food
Origin: ; from sugar candy ; from Middle English (sugre) candi ; from Old French (sucre) candi ; from OIt (zucchero) candi ; from Arabic qandi ; from Persian qand, cane sugar; probably ; from Sanskrit khaṇḍa, piece (of sugar)
transitive verb
candied, candying
to cook in or with sugar or syrup, esp. to preserve, glaze, or encrust
to crystallize into or like sugar
to sweeten; make pleasant
Origin: Fr candir < It candire < candi: see the candy
intransitive verb
to become candied
Webster's New World College Dictionary Copyright © 2010 by Wiley Publishing, Inc., Cleveland, Ohio. Used by arrangement with John Wiley & Sons, Inc.
---
candy definition by American Heritage Dictionary
noun
pl.
can·dies
A rich sweet confection made with sugar and often flavored or combined with fruits or nuts.
A piece of such a confection.
verb
can·died
,
can·dy·ing
,
can·dies
verb
, transitive
To reduce to sugar crystals.
To cook, preserve, saturate, or coat with sugar or syrup.
To make pleasant or agreeable; sweeten.
verb
, intransitive
To become crystallized into sugar.
To become coated with sugar or syrup.
Origin: Middle English candi, crystallized cane sugar, short for sugre-candi, translation of Old French sucre candi and Old Italian zucchero candi, both from Arabic sukkar qandīy : sukkar, sugar + qandīy, candied (from qand, cane sugar, probably from Dravidian kaṇṭu, lump).