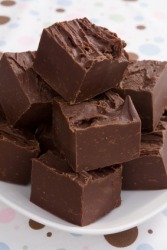 A plate of chocolate fudge candy.
interjection
Fudge is defined as an expression of frustration, sometimes used in place of a curse word.

When you slam your finger in a drawer, this is an example of a time when you might yell "fudge!"
noun
The definition of fudge is rich chocolate or a soft, creamy candy made with sugar, butter and cream, or fudge also means foolish talk.

A rich chocolate sauce that you put on top of ice cream is an example of fudge.
A soft, creamy candy is an example of fudge.
A lie that you make up is an example of a fudge.
verb
To fudge means to manipulate or conceal the truth.

When you create fake financial information to hide your losses, this is an example of a situation where you fudge the numbers.
---
fudge
empty, foolish talk; nonsense

Origin of fudge

< ?

a soft candy made of butter, milk, sugar, and chocolate or other flavoring, etc.
a rich, sweet chocolate sauce used as a topping for ice cream or as an ingredient in cakes and cookies: usually used attributively: a fudge sundae

Printing

a short piece of last-minute news or other matter inserted in a newspaper page
the act or an instance of fudging
Origin of fudge
uncertain or unknown; perhaps echoic, as in German
futsch
, gone, ruined
transitive verb
fudged

,

fudg′ing
to make or put together dishonestly or carelessly; fake
to refuse to commit oneself or give a direct answer; hedge: to fudge on an issue
to be dishonest; cheat
---
fudge
noun
a. A soft rich candy made of sugar, milk, butter, and chocolate or cocoa.

b. A similar candy made with other flavorings: peanut butter fudge.

Nonsense; humbug.
adjective
Having a rich chocolate flavor.
Having pieces of fudge candy as an ingredient.
verb
fudged, fudg·ing, fudg·es
verb
transitive
To fake or falsify: fudge casualty figures.
To evade (an issue, for example); dodge.
verb
intransitive
To act in an indecisive manner: always fudged on the important questions.

a. To go beyond the proper limits of something: fudged on the building code requirements.

b. To act dishonestly; cheat.
Origin of fudge
Possibly alteration of
fadge
to fit
---
fudge

Noun
(countable and uncountable, plural fudges)
(chiefly uncountable) Light or frothy nonsense.
(chiefly uncountable) A type of very sweet candy or confection. Often used in the US synonymously with chocolate fudge.

Have you tried the vanilla fudge? It's delicious!

(countable) A deliberately misleading or vague answer.
Verb
(third-person singular simple present fudges, present participle fudging, simple past and past participle fudged)
(intransitive) To try to avoid giving a direct answer; to waffle or equivocate.

When I asked them if they had been at the party, they fudged.

To alter something from its true state, as to hide a flaw or uncertainty. Always deliberate, but not necessarily dishonest or immoral.

The results of the experiment looked impressive, but it turned out the numbers had been fudged.
I had to fudge the lighting to get the color to look good.
Interjection
(euphemistic) Colloquially, used in place of fuck.

Oh, fudge!
---